How many trips to the parlour you make in a month, just to get rid of that moustache, I mean upper lip ? Twice, Thrice ?? 
If your answer is Twice, Read further. 
If your answer is Thrice, don't waste a moment and start reading. 
Today's review is about Saheli Thread IT, a facial hair remover spring, which can be used to remove unwanted hair from facial areas like upper lips, chin, lower sideburns. 
CAUTION - Saheli Thread IT is not to be used on eyebrows at all. 
What the Company Claims about Saheli Thread IT
"Thread It' is a specially engineered facial hair remover tool. It has been designed to be used by women to remove unwanted hair from the upper lip, chin, under chin, cheeks, jaw line and neck areas. It is a simple, safe, easy to self-use tool and provides better value for money than any other hair removal product. The concept of 'Thread It' is similar to Threading. When the handles are rotated, the hair gets caught in the precision coils and is plucked from the roots. The coils have been carefully designed to pluck even the finest
of the hairs."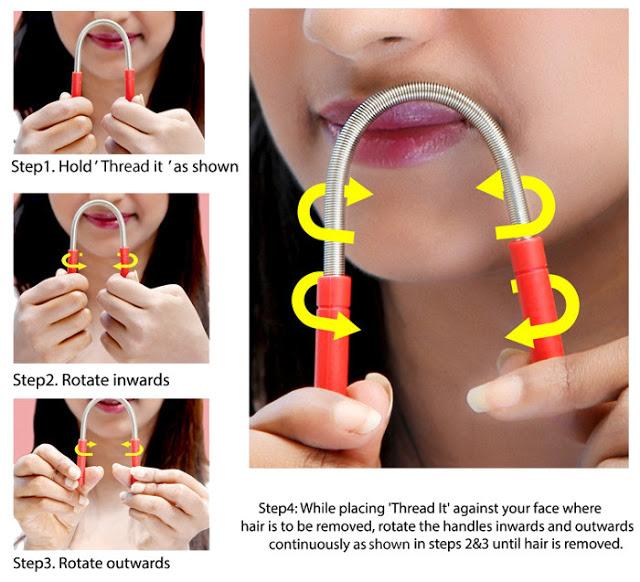 My experience Saheli Thread IT
I am one of those lazy persons who will plan to go to a parlour only when my eyebrows start resembling like bushes rather then arches. My upper lips are a different story. Somehow, I could never gather the courage to get them waxed or threaded. Don't know why ? so, what I used to do ? Ahem. Ask at your own risk. I would use my Gillette Satin Care Razor. Shocked ? Surprised ? Well, I am just a bit lucky with razors. (I have used Gillette Satin Care even since I was 15. I am almost 30 now.)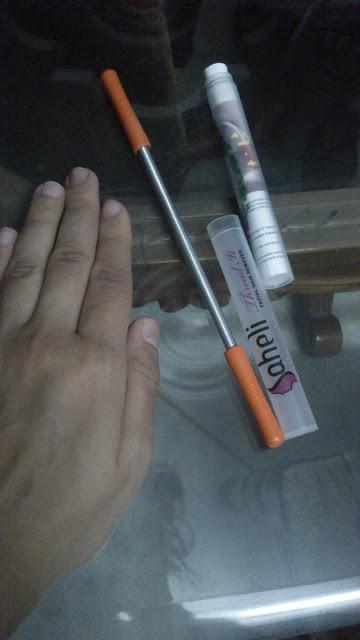 Clicked a pic with my hand just to give an idea of its size
Anyways, coming back to my upper lip, I had fine but visible hairs on my upper lips. Gillette Satin Care was my saviour always. I swear. Till I was sent Saheli - Thread It to use and review, by the brand. 
It's a spring almost twice long as your ring finger and it has to be bent in U shape and moved in downward motion to use it. As soon as it is bent, and moved in downward motion, it grabs the hair and pulls them out. The Picture above is self explanatory. All I can say is I loved it. It did hurt a bit, first 3-4 times but not anymore. Just a few downward motions and most of the hairs are gone.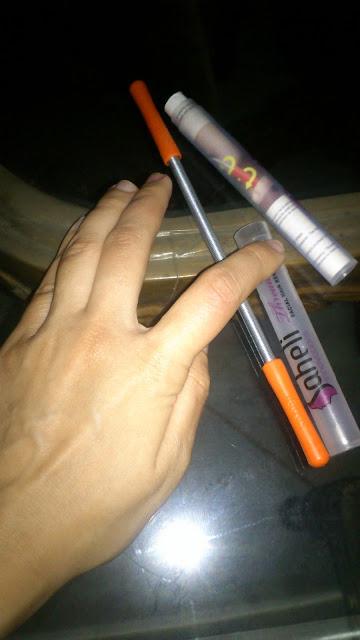 My Hands are not that old and wrinkly in real. (Just Saying :-P)
It is not to be used on Eyebrows as it might remove the entire eyebrows and might be very painful. 
Price - About Rs. 200-250, it can be used for almost 9-10 months. That's what the brand claims. (Please check back after a year to know if it's true. LOL). 
So if you girls spot it, go for it. It's definitely economical, time saving and very easy to use. 
I think that it might be a bit more painful for girls who have coarse facial hair. I have only tried it on upper lips and not side burns, chin etc. Not much hair there. 
Disclaimer - Product sent by PR