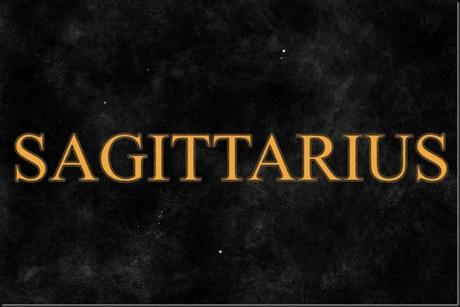 The following monthly forecast is only valid for those of you with Sagittarius as your rising sign, which is probably different from your Sun sign as it is dependent of the time of your birth rather than on the date of your birth. If you do know exactly or approximately when you were born, please click on the following link to find you Ascendant sign - FIND YOUR ASCENDANT SIGN
Sagittarius Rising – January 2013
Sagittarius rising souls will have money and possessions on their minds early into the New Year so you will be very interested in going out and spending a bit on a new image for a new year. This is also time for any financial transactions and for getting your personal money situation in order. This is also the house of personal values too and so you will be assessing what you do need in your life, and what you do not. Mercury's conjunction with Pluto around 5th will allow you to have a bit of a purge in your life if you need it. Later in the month these planets will enter Aquarius and the 3rd house of communication and local issues joining Mars there. This will herald a sudden quickening in the pace of life, with letters, invitations, phone calls, emails and short trips all taking up your time. This is a great time for promoting your ideas for advertising and selling things if you need to. Mars will see you running around making lots of short trips in your local area as you get invited to events and functions.
Venus is to be found in your 1st house in early January, making you more image conscious than normal. This is a good time to be around people, but try not to let them take advantage of your better nature, as Venus tends to weaken your personal resolve a little. On the 9th Venus moves into Capricorn and into your 2nd house before linking up with Uranus via a square on 13th and Pluto in a conjunction on the 17th. This is a time when money issues will favour you a bit more. As a result you may be impelled to spend a lot on a gift for your lover or on something creative like art, a show or some sort of expensive entertainment. In the last week of the month after the Sun and Mercury have moved into Aquarius, it will be a wonderful time to spend some quality time with your permanent partner or spouse. The Leo Full Moon on the 27th occurs in the 9th house, the part of your chart dedicated to learning and expansion of knowledge. International or travel opportunities may now present themselves to you, as may chances to expand your knowledge through training courses. Take them, if they are offered to you.
Other Ascendant Sign Forecasts
Aries Taurus Gemini Cancer Leo Virgo Libra Scorpio Sagittarius Capricorn Aquarius Pisces
For A More Personal Look At The Future
As with all general forecasts, this can only be a rough guide to the movements of the planets and how they may affect you. Would you like this forecast made even more relevant for you?
Get in touch with me at [email protected] providing your birth details or please go to the following link, and I will endeavour to see what the planets have in store for you personally in the next couple of months. Please note I am unable to do personal readings for free.
Get an astrology report by clicking here...