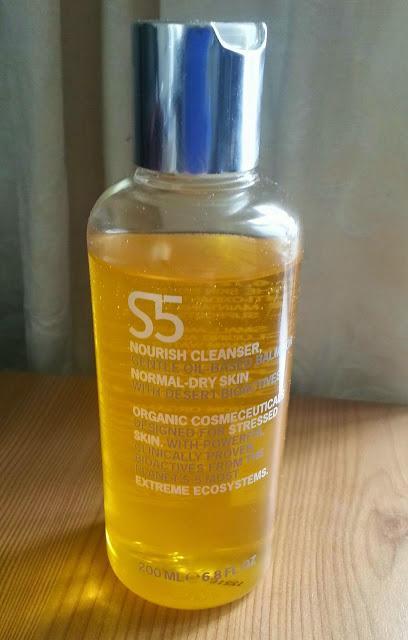 My review of S5 Skincare Nourish Cleanser is long over due. I have tried a few things by S5 Skincare and have been really impressed with the quality of their products. I blogged about their Restore Cream a while ago, which tells you a little more of their story here I have taken the ingredients list from the website as I forgot to take one from my bottle, and white writing doesn't show up very well on a photo of an empty bottle. Glycerin, Helianthus Annuus (Sunflower) Seed Oil*, Caprylic/Capric Triglyceride, Aqua (water), Polyglyceryl-5 Oleate, Hippophae Rhamnoides Oil*, Punica Granatum Seed Oil*, Rosa Rubigiosa Seed Oil*, Argania Spinosa (Argan) Kernel Oil*, Parfum (Natural, Low Allergen Fragrance), Tocopherol. *ingredients from organic farming.
  I would describe this cleanser as somewhere between a balm and a gel. It has a thick texture which is like honey, but without any of the stickiness. You apply a small amount to dry skin, massage in and then rinse away. On contact with water it becomes more of a milky liquid. Undoubtedly it falls into the luxury category as at £32 for 200mls it isn't cheap. However, my bottle has lasted me just over three months of twice daily use. so it does last a good while.
 I have really enjoyed using this cleanser, it is nice and gentle on my skin but effective. It does a good job of removing eye make up, and hasn't irritated my eyes in any way. When massaging it into the skin it has a pleasant warming sensation, and massaging it into my skin feels like my skin is being pampered. Most importantly it leaves my skin lovely and soft. I haven't found it to be drying on my skin at all.
 I think this is one of the nicest cleansers I have used for a while and look forward to trying other things from S5 skincare's range.