This time its been really long since i have posted; its been weeks struggling or should i say 'juggling' between job, family, health, my passion and my learning. its obviously not easy when you are forced to prioritize and just thrive on those, leaving your pas sion behind. All these days i have been wandering that how others are coping up with such struggles with the fact that everyone has one or the other troubles in their life still, they are able to make it.

May be they are able to push themselves to a little more extent, probably more than i do.
But I am back...with a promise with myself that I would prioritize but with No compromise.
A nd this time its with an amazing product i have been using since past few months. if You are always in combat with your ugly acne and marks left behind & you hardly have time to go for full fledged facials/treatments...I have got something for you.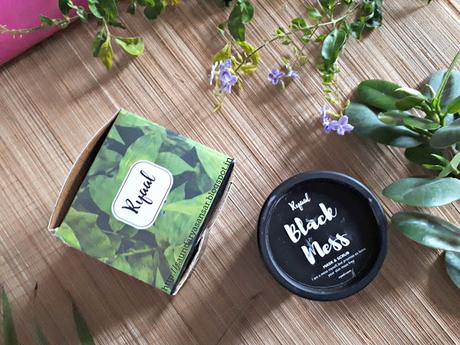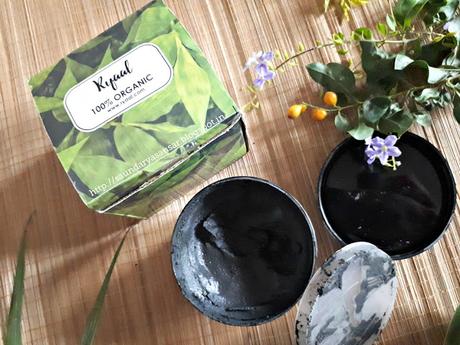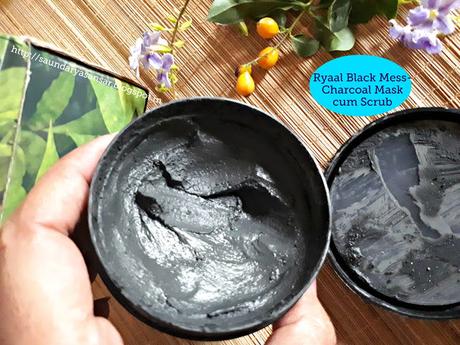 I am a mess myself but promise to leave your skin mess free
This Black Mess, Charcoal mask, scrub & Cleanser from Ryaal, a brand which has 100% organic and natural skincare solutions.

Price- 499 Rs for 125 gms. you can buy this from their website here or from Nykaa too.
If you might have read my last few posts, you must be aware how crazy i was for charcoal masks and even tried some DIY's too, a supercheap but effective homemade mask.
Just open this Black plastic tub of Ryaal Black Mess; with an inner protective lid and a strong mint fragrance would hit your nose, a dark black dough with rough granular texture which messes up into a dirty black liquid when you dilute with water...will this mess clean up mess from my face? Is this an answer to all my skin problems?
Ok...lets try, sprayed a lot of hydrosol to my cleansed face and was a pleasant surprise to see
this mask gliding on my skin, of course it has those gritty particles but no issues...it was easy and smooth. I was staring my charcoal dipped face in the mirror but was pondering meantime about these charcoal mask claims. This mask says-
Ryaal Black mess is a specially formulated 2 in 1 product for troubled skin. Activated charcoal along with fullers earth, Moroccos Lava clay & organic dead sea mud soaks up all the dirt, grime & oil from the skin, leaving it deeply cleansed. Sugar and walnut shell powder takes away dead skin and clogged pores. Aloe vera and glycerin soothes the irritated skin while peppermint oil and tea tree oil heal and prevent acne. Use this powerful formulation daily as cleanser and twice a week as a scrub cum mask to keep your skin problem free and radiant.
Sprayed the water again 2-3 times with the mask on and then washed off my face, contrary to my expectations, it was super easy to wash off and NO stains on my clothes and my washroom was all clean with a wipe.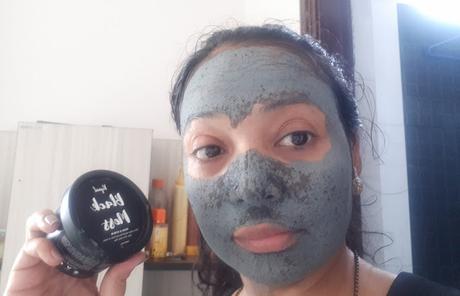 So i followed the instruction and applied the mask atleast 2 times a week and i was really happy to find that it calmed down angry bumps on my face, my face was not that red and swollen, pain was subsided but...it does'nt mean it got me rid of those pimples. It surely wont cure but would help in healing and prevention. Either apply as cleanser or mask. it works but dont expect this to be a Cure. its rather a Prevention for me.
Believe me you need a lot more than only just a mask or something of the sort to get rid of your troubles.
This is something which is my saviour when I need a facial at home. Just clean your face with a natural cleanser (preferably) and apply this mask, you will love how your skin is clean and glowing within next few minutes. I wont say i am all sorted with my acne, marks, pigmentation etc but yes, this mask certainly helps and the results are pretty visible in few applications.
Moreover there is something more to appreciate- its organic ingredients, its all natural and skin friendly. All what i could read from the label was-
Activated charcoal, kaolin clay, Fullers Earth, Rhassoul Mud, Organic dead Sea Mud, Aloe vera extract, peppermint oil, Australian Tea tree oil, Sugar, Juglans Regia shell powder, Glycerin, Xanthum Gum.
Also I must admit that this one of those few formulations which actually worked on my skin and its been months i have applied any other mask.
So not only Ryaal Black Mess mask would be a sure thing to restock but am also planning to try some more stuff from the brand. What do you think I should try??
Overall Ryaal Black Mess Activated charcoal scrub cum mask is a real good mask for problematic skin and that too in the budget. This would surely be your favorite too. Try it.