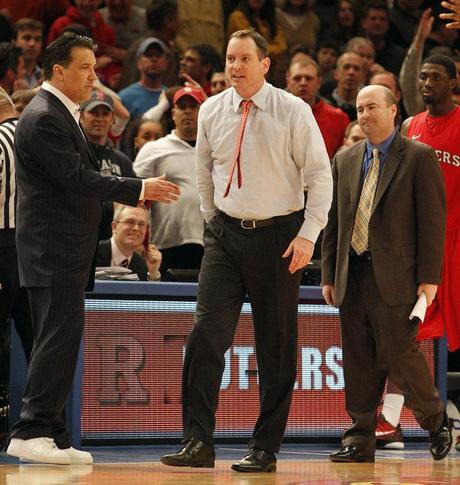 No one ever wants to see a game decided by the officials. Whether its in Basketball, Baseball,Football or any sport for that matter. But, what happened today when Rutgers took on ST Johns was certainly one of those games. Rutgers was down 65-63 and they threw the ball the length of the court. This is where the madness begins two St Johns players sandwich Rutgers player Gilvydas Biruta in mid air and the refs clearly missed this fowl. 
But, then it gets worse after Biruta was on the ground St Johns player Justin Bronwlee stole the ball took three steps without dribbling the ball which caused him to step out of bounds then launched the ball into the stands. In reality after this there should have been 1.7 seconds on the clock and St Johns with ball. But, the refs swallowed there whistles.
This what is stupid about the NCAA you can't even review the call unless it was called on the floor, and in reality it should have. its pathetic there is three officials and your telling me not one of them witnessed the fowl on Biruta. They also didn't see Where Bronwlee take 3 steps step out of bounds. At least call a technical for chirst sake your not allowed to throw the ball in the stands period whether you know it or not. 
Because this game was not over so it is a technical. The last thing is they have three referees for a reason so it enables them to see over the entire court so the refs clearly took this possession off if you could not see any of these things. We will just have to wonder what exactly the refs were doing this possession.
Update***- The day after the Rutgers and St Johns game ended in a controversy. The three Refs that reffed the game Jim Burr, Tim Higgins and Earl Walton. Withdrew themselves from the rest of the big east tournament. This is great because honestly the way that game ended was pathetic. The least they could do is withdraw themselves from officiating out of respect to Rutgers.
The end of the St Johns Rutgers game.
***Photo Credit to NJ.com Related Posts : Basketball, Biruta, Brownlee, Johns, NCAA, Robbed, Rutgers, St