Hi friends! I am SO excited for today's post.  A while back Jess from Outside PR contacted me, asking if I would be interesting in trying out the Alter-G treadmill.  I could barely type out my response quick enough, I've been hearing about this treadmill for SO long and was dying to try it out.  It took us a while to find a date for me to go in and meet with Chad Coporale at Worcester Physical Therapy Services because my schedule was so nuts, but I finally made it in and it was AWESOME!!
Let's start with a little background shall we?  The Alter-G was created by NASA engineers and it uses patented NASA technology that lets you walk or run unweighted up to 80% of your body weight, so you really feel like you are running on the moon.  As most of us runner's know, sometimes our body's get tired, especially when we are piling on the miles (hey marathon training!) So being able to increase our volume of training while reducing the risk of injury as there is no stress to the joints and muscles would be amazing.  It's so amazing that elite athletes like Kara Goucher and Kobe Bryant both use it to train and former Boston Marathon winner Alberto Salazar, who now coaches elite runners for Nike's Oregon Project, uses Alter-G treadmills in his training programs because he sees the value in unweighted training to increase volume while reducing injury.  However, its not just for runners, its also great for people trying to lose large amounts of weight and for physical therapy for those coming back from an injury, surgery or stroke victims.  What is so great about the Alter-G is that is allows you to run or walk while maintaining your normal gait, so while you may feel like you are running on the moon, you keep your form.
When I arrived for my appointment, I wasn't really sure what to expect.  Chad was great and gave me a run down about the machine itself and all the components of it.  He then had me get dressed in a pair of neoprene shorts that looked a lot like biking shorts but we thick and tight.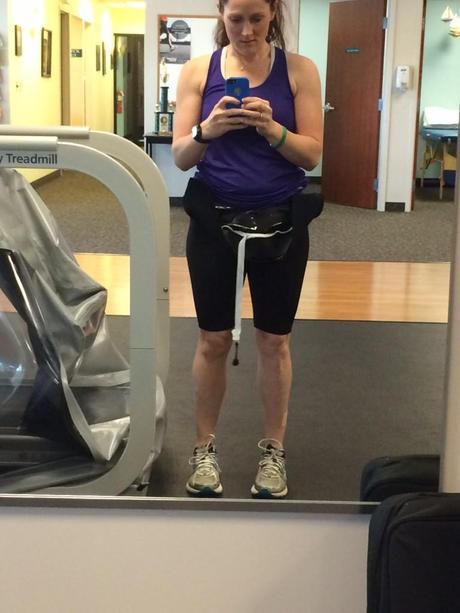 Once I was in the shorts, I stepped into the chamber in the Alter-G.  At first, I felt a bit awkward as this treadmill doesn't look much like the ones I adore at my gym.  You basically step into the middle of a tent like circle and then you pull it up and zip yourself into it via the compression shorts.

Once I was zipped in the Alter-G, Chad had to calibrate the machine specifically for me.  The calibration takes about 30 seconds or so as air fills the chamber, determining your weight, etc.  It was a weird feeling as you definitely could feel the air compressing you and almost lifting you off the ground and then decompressing and letting you back down feeling normal.  Once it was calibrated, I started walking at 90% of my body weight.  It didn't feel much different but as soon as we started decreasing the numbers, it felt so different.  I started my jogging warm up around an 8:30 min/mile and it didn't feel difficult at all, soon I found myself around 50% of my body weight and I was running in the low to mid 6's and it felt like I was running at a pretty normal pace for me (I WISH!!) I could definitely feel it cardiovascularly but I felt no discomfort in my legs.  It was the strangest thing to wrap my head around, but it was really awesome.  I guess this is what the elite runners feel like (but they run even faster!)
Here are some shots of me running on it from different angles!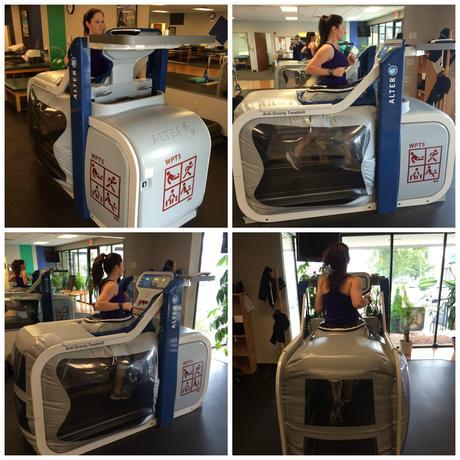 It has that great open chamber at the bottom to let the coach/PT evaluate your gait and you can even do a video analysis of your session to see where you need improvements.  Chad let me test out the Alter-G for a bit and I got in a good workout.  When I was done, I let the machine decompress and felt my body weight return to normal. It was definitely a strange feeling that you have to get used to again.  Once I was ready, I unzipped myself out of the contraption and stepped out.  I immediately noticed how sweaty I got in the compression shorts, but I guess it makes sense since I was zipped into a compression chamber, I had to be giving off heat while I was running even if I didn't feel like I was.  Chad mentioned that the people who come and use the Alter-G often usually buy their own compression shorts.  While they have a few in every size available, they have to get washed after every use so there is a chance when you come in that your size may be unavailable.
After my session, I started asking Chad some more questions, like….do "normal" people buy these machines for their training.  I got a little laugh followed by a "no."  I guess that makes sense when he told me that the machines can run $75k+ Yeah, that just isn't in my budget!  Who knows, maybe when Alter-G gets super huge and mainstream, they will do a giveaway and I could win, right? Pipe dreams, I know!  But seriously, this machine was amazing.  Not only is it great for us "regular" athletes, I mean, this would have be ideal when I was training for Boston in the snow, ice and freezing temps, but the ability for it to help rehab those with injuries is truly amazing.
Now, the coolest part of this whole experience is that the Alter-G is not just for elite athletes anymore, YOU can try running on the moon too!  Places that have one of these very coveted Alter-G machines now offer day and monthly passes for us regular folks to come in and use it to train. You can visit their website to find one near you.  I know that Worcester Physical Therapy Services near me even runs Groupons from time to time at really discounted prices that you can take advantage of using the Alter-G at a lower rate, but even at full price, a 30 minute session in my area is $25 or 3 sessions for $75.  While it's not dirt cheap, it's not really expensive either and if you bought a few sessions to use over the course of a training cycle, I could see it being really beneficial, especially here in New England when the Winter can be really tough to train in with snowy, icy roads.  I would highly recommend giving this a try if you have one in your area, it was a really cool and informative experience.
—————————————————————
Question of the day
Have you heard or tried the Alter-G before?  Have you ever tried other ways of simulating reduced body weight running (like in the pool)?