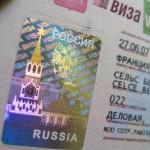 I've had a woolly summer of training, a few niggly injuries has made it a bit disjointed but have been continuing to concentrate on strength. I've been feeling great during the last month so now it is a case of tapering to next weeks championships. This week I have been doing a fair bit of MTBO practice on areas I think locally are most similar to what we can expect in Russia. Cannock Chase, Sutton Park and Delamere Forest have been great with a few bits of urban thrown in – local housing estates that are mapped to sprint specifications. I've also done a little fast cadence turbo session and a lap of Cannock Chase's Monkey trail to get speed up my legs and get my eye back into more technical xc riding.
Off the saddle I have given the bike a thorough service and have spent a few hours trying to find Russian versions of google street view to have a look at Vyborg. I also now have my Russian Visa which took some getting….
So it's now time to pack the bike, make sure I haven't forgotten anything and get myself to Gatwick on Saturday !