A classic combination inspired by that  childhood favorite "Old Jamaica" chocolate is my bake for the Christmas event for the Clandestine Cake Club. Essentially a common or garden victoria sponge cinnamon scented , with the boozy addition of soaked raisins. I left the raisins to soak for 3 days and they smelt amazing just like that beloved chocolate bar of my youth.
I decorated the cake in a kitsch retro style, using a rum flavoured white chocolate ganache and a dark chocolate reindeer with the obligatory red nose and the cheek addition of some chocolate "rocks" (chocolate raisins and cranberries).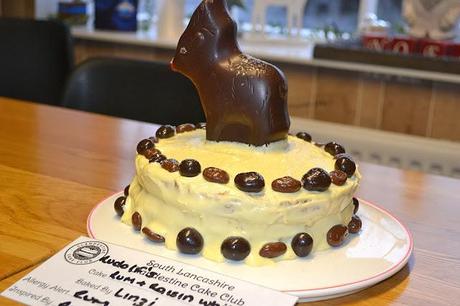 I also sprinkled him with some edible snow glitter too ! more is more  on this occasion. Just a bit of fun for a fun event.