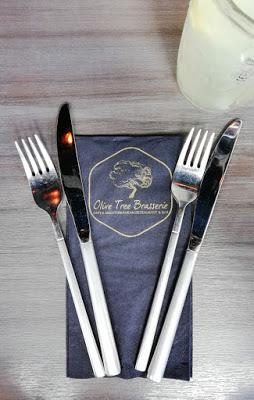 We are in the middle of a heatwave here in Lancashire so it really did feel a little like Greece when we recently visited the Olive Tree Brasserie in Preston for lunch.
We had been invited along to enjoy lunch on their summer menu, as we visited on a Sunday we could also choose from their "roast menu" or their prix fixe lunch menu.
We choose a drink from the extensive cocktail menu to enjoy whilst browsing the food menu's. As one of us was driving we plumped for an unusual beetroot and lavender white lady as our cocktail and ordered a mocktail too.
I thought the lady would be pink but as you can see its a gorgeous creamy combination of gin, Cointreau, beetroot shrub, lavender syrup, lemon juice and whites. Perfectly balanced in flavours, it could have so easily been girly and sickly but instead it was deliciously summery.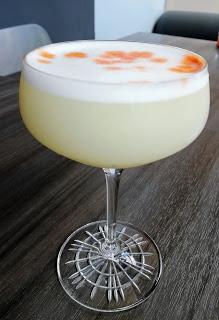 The designated driver ordered a mocktail, a refreshing summery blend of lemon and mint, not too sweet and served over crushed ice. Loving the paper straw by the way as well.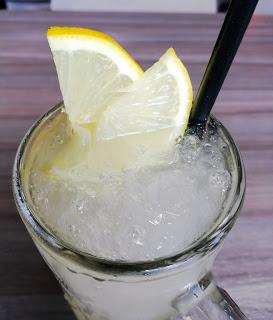 We ordered our lunch from the a la carte menu which has been subtly changed for the summer however it still features all of the modern Greek classics you know and love.  For starters we ordered Garides Saganaki and Keftedes.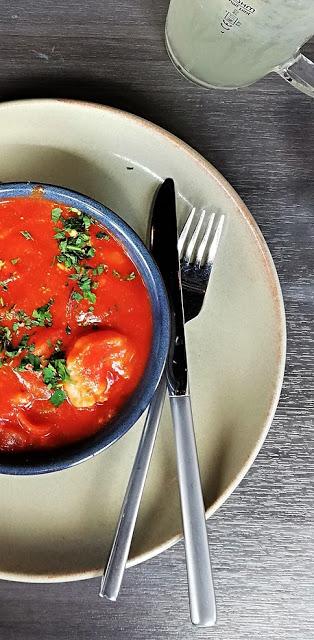 The

Garides Saganaki

dish when it arrived wasn't what I was expecting, I thought it would be grilled prawns sprinkled with feta and a tomato sauce, but this was more of a prawn and tomato stew, slightly spiced and full of delicious vegetables with chunks of salty creamy feta. Wow very impressed, just needed a spoon !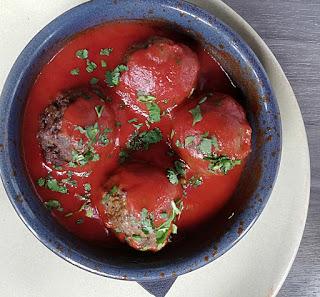 Mr LF chose the Keftedes for his starter, the tasty and hearty pork and beef meatballs were served in a rich tomato and herb sauce, the portion size was great for a hungry chap but for those of us with smaller appetites may be a little on the large side.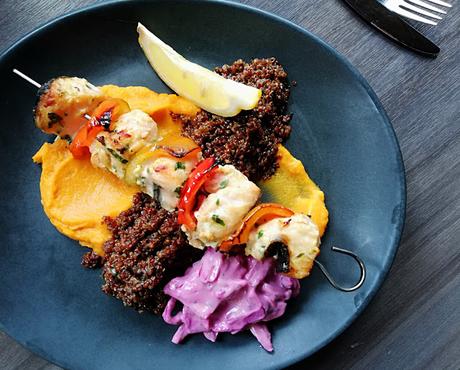 For my main course I chose the Solomos souvlaki, another hearty dish a skewer of chunky moist salmon pieces, served on a bed of  red quinoa, greek slaw - which essentially if red cabbage coleslaw but with a tzatziki dressing and sweet potato skordalia. I enjoyed the dish but couldn't finish it as quinoa is very filling and I found a lot of the elements at sweet end of the flavor scale.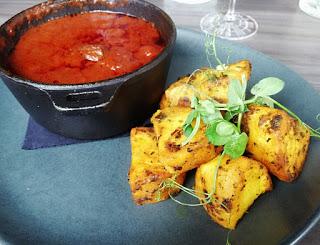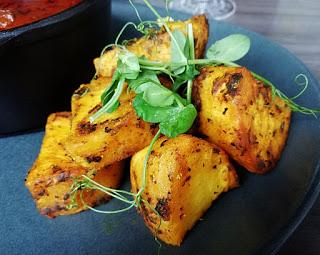 Despite being here to review a summer menu our other mains choice was the Vodino stifado , a rich tasty and aromatic meltingly tender beef stew with Greek potatoes. Perhaps more suited to a winters day but tasty all the same and thoroughly enjoyed by the diner.
On to our delicious desserts to complete our meal 


First up was Loukoumades , Greek sweet donuts with a white chocolate dipping sauce, tasty fluffy hot doughnuts with a runny white chocolate dip to dunk your doughnuts in.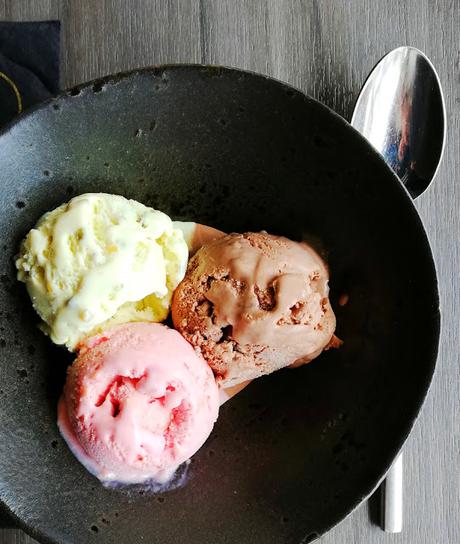 I chose the ice cream selection for my dessert, my choice of three flavours so I went for the classic Neapolitan , pistachio, strawberry and chocolate, wonderful on a hot sunny day when it was 30C in the shade, that's hot, really hot for

Preston. The ice cream was well flavoured and disappeared quickly.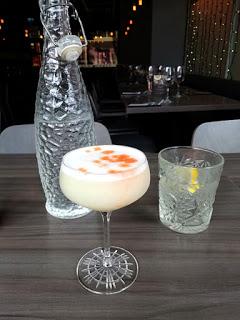 For more interior atmosphere shots check out the post of our earlier visit to The Olive Tree here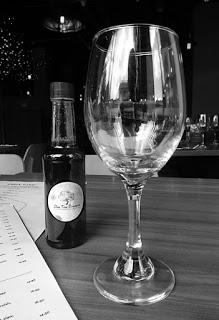 We thoroughly enjoyed our meal and would definitely recommend a visit, So if its Modern Greek food your after why not check out the Olive Tree Brasserie, branches in Preston, Lytham, Stockton Heath , St Annes and Chester. Bookings advised. 


We dined on a complementary basis after being invited to give a review, all thoughts, views, opinions are our own. We were not expected to give a positive review.