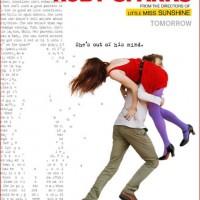 Movie: Ruby Sparks
Director: Jonathan Dayton and Valerie Faris
Cast: Paul Dano, Zoe Kazan, Annette Bening and Antonio Banderas
Rating: ***1/2
From the directors of "Little Miss Sunshine" Jonathan Dayton and Valerie Faris, after six long years, comes a heartwarming, dark, yet cute love story that may very well be one of the best films of 2012. In the era of sequels and sequels of sequels, remakes, "Ruby Sparks" comes as a whiff of fresh air. If you were to make a giant list of the best romcoms, then undoubtedly this film will find a place right at the top of the list.
Paul Dano plays a genius writer Calvin, struggling to complete the book he's currently working on. It's been 10 years since Calvin's first, highly successful, great American novel, and since then hasn't even written a single line. On one of his regular visits to shrink, Calvin is given a writing assignment, and following which he realizes the true power of written word.
In his assignment, Calvin writes about his dream girl, how he wants her to be, and watches her come real. At first, he thinks he's still dreaming and tries his best to snap out of it, but soon comes to learn that it's really happening. Since, the girl, Ruby, is Calvin's creation, he can literally make her do anything he wants. All he has to do is write it, and see it happen right in front of his eyes. It begins as an adorable love story, but gradually shifts gears and transforms into what most of us don't like. What happens between Calvin and Ruby forms the rest of the story?
The star of the film is neither Jon and Valerie nor Paul Dano, but the super talented Zoe Kazan, who before this film was barely known for her supporting roles in several films over the years, comes alive in the role of the title characters and simultaneously proves her mettle as a writer. It's very unlikely to find a woman at the helm of writing or direction, but here's Zoe, in a male-dominated industry, carving a niche for herself and you want to go all out of the way to cheer for her.
This film is a must-watch for all aspiring writers. Although, one part of the story is about writer's block and how does one find his/her way out of it, other aspect harps on the fact that how egoistic people become in relationship. The film is a brilliant culmination of love, passion, charm, wit and pain. "Ruby Sparks" is a bizarre love story that oscillates between fantasy and insanity, but eventually evolves successful due to powerful and endearing narration.
It's hard to believe when people say some actors are destined to play certain characters. Well, I was a strong non-believer of that line until I watched this film and realized that the cast is nothing short of phenomenal. Paul Dano as the genius yet struggling writer is showing signs of being one of the best actors of this generation and with his performance as Calvin, he's definitely proved it. Chris Messina as Paul's older brother is gradually evolving into one of best side man's in the industry, especially after his performance in films such as "Greenberg" "Away We Go" and TV serial "The Newsroom". Annette Bening and Antonio Banderas chip in with satisfying cameos.
Unlike most romantic films, "Ruby Sparks" doesn't end up as a clichéd and cheesy love story. Don't miss it!