There were some huge route choice decisions to be made at the Gisburn MTBO last weekend. Route Gadget is now available here http://www.pfo.routegadget.co.uk/pfo/reitti.cgi?act=map&id=25&kieli= please put up your routes if you rode, its is a great way to review your performance against others and a valuable asset for novices to learn from.
Route choice is what the long distance format is all about (well that and physicality) and planner Alan Hartley exploited the Gisburn map to the full with his courses.
Below are his thoughts on the long legs, plus the potential routes color coded.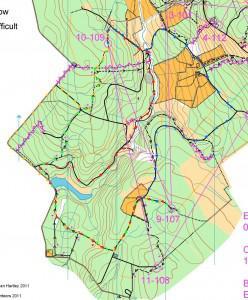 Green – 3.9km, 90m
Blue – 4.2km, 90m
Yellow – 4.7km, 95m
Red – 4.8km, 85m
Probably blue is too close to green distance in hindsight, maybe should've had 9 further south, although this would've affected the B route choice so prob would've had to have two controls. Perhaps without local knowledge the singletrack on the green route too risky.
A lot of singletrack on an MTBO map hides many bends which can't be mapped at 1:15,000 – it is certainly the case on several of the tracks in Gisburn, but not these ones but that's not what competitors would know in advance. You can see the southern section is marked with the medium symbol, not slow and it's not very long before you're back
on fireroad, so pretty quick up to where the yellow route rejoins – I think this rules out the yellow route and splits seem to indicate that e.g. Houli went this way. I don't know anybody who took the red on the A course although at least one did on B but from different start control. The B splits and routes do seem to indicate that green is faster than red and yellow.
Because of the all the one way trails it does make 9-10 and 10-11 completely different legs, and certainly the best way to 11 is round the north back along the blue route, but because 11 is south of 9 it did make a few riders go round to the south to 11. The original A legs were actually the other way around, so from 11 to 10 then back to 9, then it is a better leg on the way out, but then there was no real choice on the return. It's actually a real pain trying to put long route choice legs in with so much one-way, I was originally trying to get a leg back to the SW corner to then go direct to finish from there, setting up a great "run-in" route choice of north or south, but you can't have a leg of any interest against the singletrack without tempting cheating.
When planning I don't like to be too scientific with route choices as I think you do need a discrepancy with routes rather than tweaking control placement until all routes are equal as then there is nothing to be gained. It's only a shame that by not being scientific perhaps the best routes involved using the same track a lot.