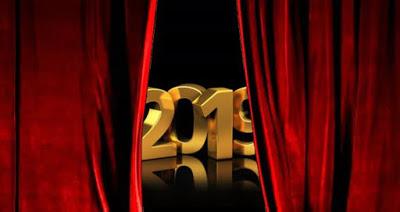 We've reached the end of yet another year and before I jump into 2020, I wanted to take a look back at my posts and activities for 2019. 
Life Changes
I started blogging back in October 2007, over 12 years ago now. My two boys were aged 4 and 7 and I was still young, still struggling to be a father and husband and I had only just started to come to terms with my own position on the spectrum. In 2019 I turned 50, so there's no denying that I'm old. My boys are now 16 and 19, with my eldest finished school, working and studying. Those old restrictions that his teachers tried to impose "your son will never......", seem so far away now.  We've given him a lot of good support but he's done most of the heavy lifting by himself and I couldn't be more proud of him.
The problems facing us now are so different from those we faced when the kids were younger. My kids now have to enter the world of dating while I have to deal with the issues of aging parents and my own advancing years.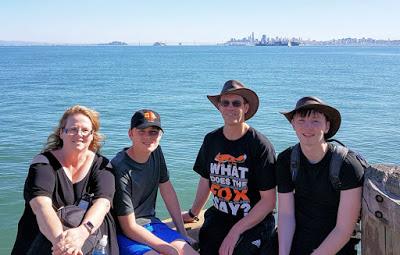 A family shot in Sausalito from our 2019 holiday
The Blog Itself
Every year, I try to set myself a goal of blogging more. I guess it would be easy if I was doing short posts but since I tend to do longer ones, it's actually difficult to achieve. This year's total count is going to be 21 posts, six more than last year but one less than 2017. One thing that makes this difficult is that a couple of years ago, some people referred to my site as a "review site" and I decided then to cut back on book reviews (only one this year) and concentrate on posts that people can use.
I'm also gradually shifting my language from Asperger's to autism but I'm keeping things open because I know that not everyone is ready for the transition. In this blog you'll find that I use "person with autism", "person with Asperger's", "Autistic person", "aspie", "individual on the spectrum" and a dozen other turns of phrase interchangeably. Rather than concentrating on person-first or condition-first language, I'm putting my efforts towards simply writing good articles.
I'm closing out the year with a radical change to the design of the blog. The aim being to update it to a more modern look that works better on mobile devices (while still keeping it working on computers). Hopefully this will also fix some of the accessibility issues.  I'm aware that the changes make some of the older content harder to get to. I'm not sure what to do about that yet but I'm working on it.

The Old blog look versus the new.
Posts from 2019
Enough reminiscing; Here's a list of my posts from about last year. Wherever you are and whatever your situation, I wish you the very best for 2020.
Which Schools are a good fit for your Child on the Autism Spectrum?
Helping your kids on the Spectrum to find Employment - Part 1
Helping your kids on the Spectrum to find Employment - Part 2
Helping your kids on the Spectrum to find Employment - Part 3
Audio Book Review: The Curious Incident of the Dog in the Night Time
Over-Parenting kids on the Autism Spectrum
Why Autistic People need to be Encouraged to "Give things a Go"
Are we "all a little bit Autistic"?
Asperger's and Bullying - Running Away isn't the Answer
Pressuring people with Autism outside their Comfort Space can lead to Issues
Relationship Traits that couples with Autism can learn from
Teaching Responsibility to kids with Autism
Some thoughts on Cups, the extreme male brain theories of autism and genderless society
Forget Normal. Set Personal Goals for a Happier Life
Being an Older Adult with Asperger's Syndrome
Our Partners and Autism Acceptance
Strategies for when your autistic teenager needs help with Math
Being a Good Dad to Kids on the Spectrum