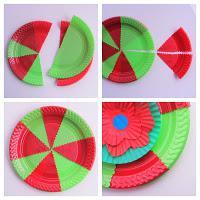 It's no secret that I'm always looking for the quick and easy way around craft projects.  I recently read a post on 'Homespun with Love' called "rosette lollipops" where rosettes are made with doilies, cupcake liners and folded paper, amongst other things.  The rosettes look fabulous and festive and I wondered if there was much precedent for such things, and there is some, and in fact one crafter at 
Icing Designs
 includes tutorials.
So then, my afternoon idea was to see if I could make a simpler version that lost the candy but could double as a table decoration.  
Note; I used the red and green to be festive, but this sort of pattern could be fun for any party theme, including circus, super hero or princess, just select two colours to suit!
Here's what I did; 
Select two plastic plates of alternate colours (paper would work too, but it lakes the shine, and you might see white strips when cut it up).  
Cut each plastic plate in half, and then quarters using crimping scissors, or similar.  (I carefully cut both plates at the same time to save time).
You now have 8 pieces of plate - 4 of each color - set one of the darker pieces aside (in this instance the darkest and therefore least transparent of the two colours was red).
Using the other 7 pieces, lay them on top of each other in alternating colours, and arrange so that they are evenly spaced.
Take the set aside piece (shown red in my photo) and cut it in half.
Lay this last slice on top of the other 7 pieces, and save the remaining remnant for another craft project.
Using double sided tape or sticky dots, gently work your way around and stick the pieces together. (To do this, you might choose to; mark each piece with a small pencil line, disassemble the plate, then reassemble it; alternatively you can gently lift each piece up and push the tape under; or, you can simply do as I did, and start all over, sticking each one down in roughly the right place, the inexactness of it all adding to the fun.)
What to do with your harlequin-patterned plate?  I suggest you follow the trend and layer one rosette on top of another, by making paper versions, or do as I did, and add a cupcake-liner flower in matching colours.  Pop it in the center and turn the whole thing into a wall decoration, a table-setting, or stick it all onto a giant-lollipop.  (For help on how to make the flower - I previously blogged the how-to when I used a similar but different look to make a
mermaid party table-setting
 and again in the
making a mermaid mirror
).
Hope that made sense... I've effectively been up since 4am and the lack of sleep is probably showing... gotta love toddlers!