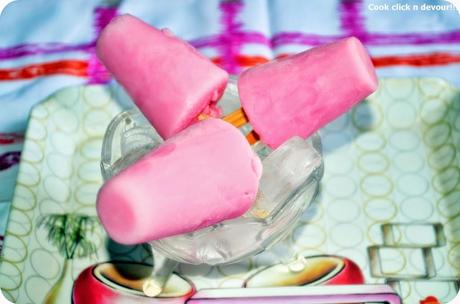 There are few dishes that are great reminiscence of childhood and holds a very special place in our hearts right,they may not be something fancy,expensive or gourmet but something absolutely tasty,much sought after and the sight of it would bring in loads of joy.I know most of you connect this kind of thoughts with many dishes that you enjoyed while growing up.My sister,cousins and I would spend every afternoon and holidays at my grandparent's while growing up and I have oh so many fond memories associated with,and here goes one.There used to be one ice cream vender from the company 'state icecreams' and we eagerly used to await him.We always nagged our grandfather and aunts for ice cream every other day and for healths reasons we were of course not allowed to have that way :( . Those icecreams were one of my favorites and there were so many varieties for us choose from 1re (yes you heard it right!) to 20 rs (most expensive :P ). Oh how can I forget those stick icecream call it popsicle if you want to give it a fancy name , pupstick(mik),grapes which turned our tongues almost purple and that small little triangle rose milk which was only 1 re. Somedays we were allowed to purchase the most expensive cassata but few other days only any one of those sticks. This recipe from Rak's kitchen kindled these sweet memories and I was immediately hooked to try this rose milk popsicles.This is ridiculously simple to get called as a recipe but something which will attract all kids alike.This is a simple rose milk  drink without any fancy ingredient frozen in molds so you can even consider this as a way to make fussy kids have their portion of milk.I have frozen these in kulfi moulds as I don't have popsicle moulds.Get into making few of these real treat for kids and also for those kids at hearts :)
Rose milk popsicle recipe
Star ingredients: Rose milk essence and milk
Time:15 minutes+3-4 hours for freezingYield: 6 mini popsicle/kulfis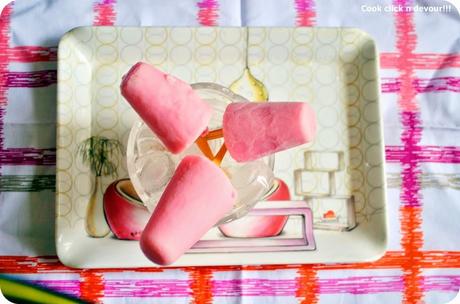 Ingredients:2 1/2 cups whole milk3 tablespoons rose milk essence3 teaspoons sugarMethod:1.Bring milk to a boil and simmer for 10 minutes till it reduces a bit.Add sugar and mix well.2.Allow it to cool thoroughly.3.Add the rose essence and mix well.4.Pour in popsicle/kulfi moulds and freeze for 3-4 hours.Once set serve.Notes:1.You can add 1 tablespoon condensed milk if you want your popsicle to be real creamy.2.The rose milk essence will be already sweetened so adjust sugar to taste.