In his first interview following last week's presidential debate, President Barack Obama told ABC's World News Tonight that he does not believe his poor performance against former Massachusetts governor Mitt Romney has affected his chances of winning the Nov. 6 presidential election.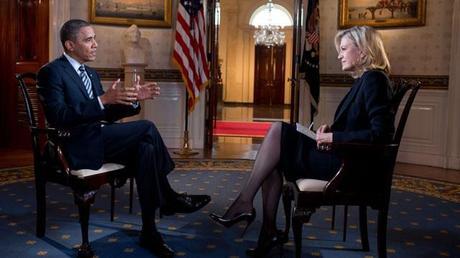 President Obama told Diane Sawyer that Mr. Romney was
rewriting his political program as he went along.
Asked by Diane Sawyer whether he had ruined his chance of serving a second term, Mr. Obama was categorical.
"Governor Romney had a good night. I had a bad night. It's not the first time I've had a bad night. What's important is the fundamentals of what this race is about haven't changed. You know, Governor Romney went to a lot of trouble to try to hide what his positions are," he said.
Mr. Obama then suggested that presidential debates were like sports games, and that, in most cases, a defeat increased a person's determination.
"If you have a bad game, you just move on. You look forward to the next one. And it makes you that much more determined. The difference between this and sports is that the stakes are so high," Mr. Obama stated.
Various polls conducted following the Oct. 3 debate have shown that viewers felt Mr. Romney had dominated the 90-minute exchange.
Mr. Obama told Tom Joyner on the Morning Show on Wednesday that he would be far less polite and more aggressive when he faces the former governor again next week on Long Island.
"I think it's fair to say that we will see a little more activity at the next one," the president warned.
Ms. Sawyer also asked the president to comment on the former Massachusetts governor's recent remarks on abortion. In an interview with the Des Moines Register on Tuesday, Mr. Romney told the newspaper that the issue did not figure in his agenda.
"There's no legislation with regards to abortion that I'm familiar with that would become part of my agenda," he stated.
Mr. Obama said that these comments were another good example of the former governor's attempts at rewriting his political program as the election draws closer.
"This is another example of Governor Romney hiding positions he's been campaigning on for a year and a half," the president told the channel.
The former governor, who has pledged to appoint Supreme Court justices who are well known for their opposition to Roe v. Wade – a ruling which granted abortion rights to women in some circumstances – reiterated his position on Wednesday.
"I think I've said time and again that I'm a pro-life candidate and I'll be a pro-life president," he insisted.
The second presidential debate is scheduled for Oct. 16 and will be moderated by CNN's Candy Crowley.