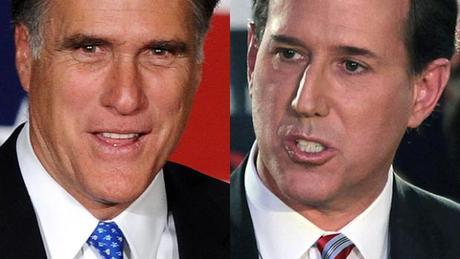 Former Massachusetts Governor Mitt Romney, left, and former Pennsylvania Senator Rick Santorum. Photo: Getty.
Former Massachusetts Governor Mitt Romney narrowly won the Iowa caucuses on Tuesday ahead of former Pennsylvania Senator Rick Santorum, with Texas Congressman Ron Paul coming third.
Mr. Romney won 30,015 votes, eight more than Mr. Santorum, which means that both managed to garner the support of around 25 percent of the electorate. "This has been a great victory for him [Mr. Santorum] and for his effort. He's worked very hard in Iowa. We also feel it's been a great victory for us here," Mr. Romney commented, while Mr. Santorum's website stated that he had shown that he was "the only conservative who can beat Mitt Romney".
Mr. Santorum's success on Tuesday is all the more remarkable since he has only been scoring in double figures in a consistent manner in Iowa since the second half of December. Furthermore, his campaign was never as well funded as that of Mr. Romney. The former senator's near victory in the Hawkeye State prompted him to look forward to the future contests. "We're going to be on to New Hampshire. We're going to work hard and compete there. I'm a little bit behind the curve in the sense that Governor Romney has spent a lot of money and a lot of time up there, and has been running for six years. But we feel like we can go up there and compete," Mr. Santorum said.
Mr. Romney, who pledged to concentrate his energy on fighting President Obama and not Mr. Santorum, told CNN on Wednesday that what really mattered now was to put America back on track. "Of course, people are going to ask us about the differences on our positions on issues and backgrounds and so forth. But, really, if we talk about what the American people want to hear, it's how we're going to be different than President Obama when it comes to getting the economy going, preserving America's security abroad and making sure we rein in the scale of the federal government."
Dr. Paul, who garnered 21 percent of support, stated that the Iowa results had produced "three winners." He also had a message for his backers. "Once again, we have had a fantastic showing for this cause and not the status quo we have been putting up with for decades and decades," he told his supporters. "This movement is going to continue, and we are going to keep scoring just as we are tonight."
Former House Speaker Newt Gingrich, who came fourth, congratulated his supporters for seeing through the "avalanche" of negative publicity which surrounded his campaign. Like Mr. Romney, he also stressed that the Republican Party's number one priority was to defeat Mr. Obama. "The ultimate goal of this campaign has to be to replace Barack Obama and to get America back on the right track. One of the things that became obvious in the last few weeks in Iowa is that there has to be a great debate in the Republican party before a great debate with Barack Obama," he said.
Texas Governor Rick Perry, who came fifth, announced on Wednesday that he would remain in the race despite a poor showing in Tuesday's caucuses. Minnesota Congresswoman Michele Bachmann, who came last, told her supporters on Wednesday morning that she was dropping out of the contest.
Jon Huntsman, the former governor of Utah, did not compete in the Hawkeye State and decided to concentrate in efforts in New Hampshire instead.
Thumbnail photo: DonkeyHotey