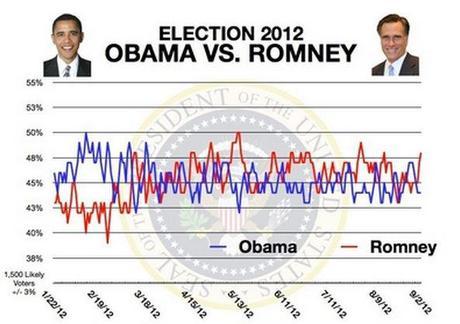 Source: Rasmussen Reports, Sept. 2, 2012.
The latest Rasmussen Reports national poll published on Sunday shows that Republican presidential nominee Mitt Romney has overtaken his Democratic opponent, as he benefits from the usual convention 'bounce.' The GOP, which held its national convention last week, saw Mr. Romney's wife, Ann, give a speech about the 'real Mitt.'Last Thursday, the former Massachusetts governor accepted his party's nomination.
According to Rasmussen, Mr. Romney currently garners the support of 48 percent of voters, while Mr. Obama is now the favorite of 44 percent of the electorate. Earlier on last week, the incumbent president was leading his Republican opponent by two percentage points. Five percent (5%) of those questioned remain undecided, while another three percent (3%) told the pollsters they preferred another candidate.
The survey also reveals that 51 percent of voters "at least somewhat" disapprove of Mr. Obama's performance, with 42 percent expressing strong disapproval. Forty-eight percent (48%) said they "at least somewhat" approved of the way he was handling his job, while 27 percent said they strongly approved.
In addition, 48 percent believe Mr. Romney is more likely to deal with the U.S. economy adequately, whereas 44% still trust Mr. Obama to do so.
Commenting upon the GOP convention and the forthcoming Democratic National Convention, Scott Rasmussen pointed out that, nowadays, the conventions provided "a stark reminder of how out of touch our political system [had] become."
"A half-century ago, conventions mattered because they actually selected presidential candidates. Today, they only serve to remind us that what interests – and entertains – the political class has little to do with what America needs," he added.
Rasmussen conducted this latest survey between Thursday, August 30, the day the GOP convention ended, and Saturday, September 1. A total of 1,500 likely voters were interviewed over three separate nights.