Now this is an All-Star Cast.
Love Actually asks us to acknowledge that love is all around. Whether it be young love between kids or love that transcends language barriers, love can be found anywhere. Love Actually features an All-Star British cast that includes names such as Hugh Grant, Liam Neeson, and Colin Firth. If that doesn't sound exciting, know that Love Actually isn't afraid of living up to its R-rating.
Romance is found everywhere in Love Actually. There are at the least, seven different romance stories taking place throughout the film. Some of the highlights include the Prime Minster and his secretary, Two actors who fall for each other during fake sex scenes, and a novelist with his housemaid.
The Prime Minister (Hugh Grant) has just stepped into office and when he meets one of his new assistants, Natalie (Martine McCutcheon), he quickly becomes smitten with her. Unable to overcome his position in order to make a move on her, the President of the US (Billy Bob Thorton) makes a pass at her. Feeling betrayed he fires Natalie and must discover his feelings for her. This particular romance is a lot of fun and it helps that Hugh Grant is probably the king of romantic comedies. There's a real carefree attitude about this Prime Minister that shines through. The problems arise from the countless fat jokes made at the expense of Natalie. Extremely insensitive, they come of as trying too hard to diminish the qualities of her character.
John (Martin Freeman (Sherlock, The Hobbit)) is about to begin another day at work. What we discover is that this isn't just any work, he is performing a sex scene with a fellow female actress. This is a wonderful sequence, that shows what American adaptations of this romantic comedy formula (New Year's Eve) haven't figured out. The scenes are hilarious and watching them slowly fall for each other, while naked, makes a typically uncomfortable scene enjoyable. This relationship wouldn't have gotten first billing in the film years ago, but the rise of Martin Freeman's star has made it far more intriguing.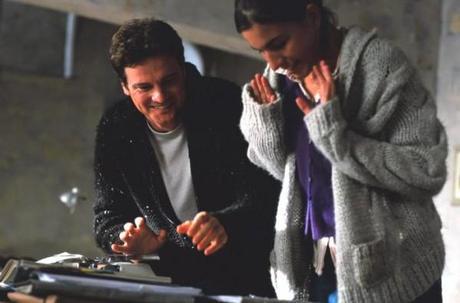 Jamie (Colin Firth) is struggling to write his next novel. Figuring a vacation would solve his problems he goes out to the country for a two-week retreat. His young foreign housemaid and him start falling for each other. Deciding that the language barrier is too strong, they part ways clinging to hope they can meet again. Colin Firth was no rookie to romantic comedies at the time. After appearing in Bridget Jones Diary, among others, he knows how to carry a romance. Considering he had most of the English language parts in this one makes it all the more important. The finale for this romance is really special and easily one of the highlights.
Those are just three of the many stories included in Love Actually. It could actually be considered a movie filled with short stories. Countless other British actors round out the cast such as Keira Knightley (Pirates of the Caribbean) , Alan Rickman (Harry Potter), Andrew Lincoln (Walking Dead) and Bill Nighy. While not every story is a home-run, Love Actually knows the true formula to a sprawling cast like this, lots of comedy and lots of heart.
3.5 Hearts / 5
*Part of Romance February 2012