Review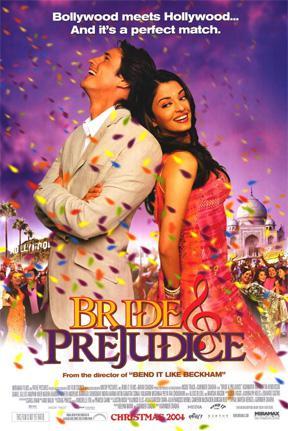 As a fan of the Austen's most celebrated novel, naturally my interest is piqued when I first heard about this project. I'm actually not a big fan of Bollywood musicals, even though it's massively popular in my home country, but as Roger Ebert put it, this is not a Bollywood movie, but a Hollywood musical comedy incorporating Bollywood elements. It's an amusing review as Mr. Ebert seemed to be distracted by miss Aishwarya Rai's beauty as he's writing it, but really, who can blame him??
Former miss Word 1994 Rai lights up the screen as the Indian Lizzy Bennet, she gained 20 pounds to play this role in order to look more 'plain,' though like the Keira Knightly in the Joe Wright version of Pride & Prejudice, she is a far cry from being a plain jane. Despite that, I think Rai is able to capture the strong-willed as well as vulnerability of Lizzy Bennet and there's certain warmth about her in the scenes with her sisters.
I like Gurinder Chadha's previous work, a soccer rom-com Bend It Like Beckham, which also deals about bending the rules of society. This time Chadha takes on Austen's classic tale, in which the protagonist's mother is eager to find suitable husbands for her four unmarried daughters. Chadha stayed pretty closely to the original story, even the Indian names for the characters are somewhat similar – the Bennets are now the Bhakshis, Mr. Collins is Mr. Kholi, and Bingley is Balraj, etc., only Darcy and Wickham are the only names kept for the original.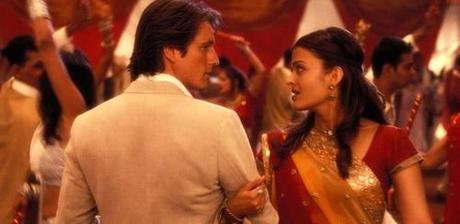 This is the first time I saw miss Rai on film as it's her first movie done entirely in English and found her to be very charming and stunning beyond belief. I think Julia Roberts once called her the most beautiful woman in the world and it's a fitting title. New Zealand actor Martin Henderson with dimples to die for is convincing enough as Mr. Darcy though he doesn't have the charisma of Colin Firth or even Matthew MacFadyen. Still I think the two protagonists have a sweet chemistry.
Another thing I love about this movie is the hilarious supporting cast, especially actors playing Mrs. Bakshi and the Bakshi's distant relative who's matched up with Lalita, Mr. Kholi (Nitin Ganatra). Ganatra is especially hilarious as the Westernized businessman who prides himself in his success as a hotelier in L.A. The way he's trying to woo Lalita will have you in stitches! Fans of the TV series LOST and ROME will recognize Naveen Andrews and Indira Varma playing brother and sister, both are very good and Naveen is one pretty awesome dancer!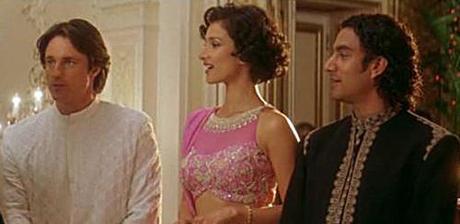 One thing that wasn't done as well is the relationship between the devious Mr. Wickham (Daniel Gillies, you might recognize him as Kirsten Dunst's fiancee in Spider-man 2) and Lalita. Chadha took much more liberty on that storyline what with the chase that involve the London Eye and scuffle between Darcy & Wickham, but still the essence of the story about him running off with Lalita's younger sis was there.
The filmmaker doesn't take things too seriously, silly moments of grandios proportion are done in tongue-in-cheek fashion, such as the scene on the beach when Darcy and Lalita took a stroll, suddenly a ridiculously large gospel choir serenading them, joined by a group of California surfers swaying their surfboards! The hilarious cultural comedy when Lalita's youngest sister performed the cobra dance that almost gave Darcy a heart attack is a hoot, too!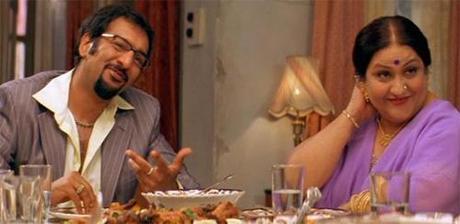 Any fans of Austen should be entertained by this movie. It's a classic comedy of manners done in the most jubilant way. The script is skillfully written to account for not only the class systems. If you think the poster looks vibrant and festive, the movie lives up to it. There are quite a few song and dance sequences and characters do burst into song and dances in the middle of the scenes, but they're balanced by a witty script and a dynamic pace. Incredibly colorful and unabashedly effervescent, no matter what mood you're in, it's tough not to be buoyed by the feverish energy of this movie.
Check out the trailer below:
…
---
Have you seen this movie? Well, what did you think?
[Written by: Ruth Maramis of FlixChatter.net]
*Part of Romance February 2012
[Editor's Note: The Author does not score her films, so I have arbitrarily added a score]