In the spirit of all things romantic, I have revisited one of my favorite films about relationships to contribute to Impassioned Cinema's Romance February.  Difficult as ever, I'm not a fan of traditional romance. Whilst I enjoy the odd Ewan McGregor rom-com (let's face it, who doesn't?), I'm not particularly partial to the classics, like Dirty Dancing or Pretty Woman. My love of indie cinema seeps into every genre, making some of my favorite films about romance especially unconventional.
It's no spoiler to call (500) Days of Summer an anti-love story; the narrator explicitly confesses it within the first five minutes of the movie. In non-linear fashion, the film shows a love story in reverse; starting with the demise of a once loving relationship between Tom Hansen (Joseph Gordon-Levitt) and Summer Finn (Zooey Deschanel). We soon learn that the depiction of the romance is not truthful; revisiting Tom's tainted memories as he refuses to believe it was a doomed relationship from the start.
Perhaps better described as a coming of age film, akin to John Hughes' Sixteen Candles or The Breakfast Club, (500) Days of Summer is a refreshing injection of life to the aged, cliched genre of romantic comedies. It's a movie for anyone who has ever loved, and lost. The script and cinematography are brilliant (especially how blue is associated with Summer to match Deschanels' eyes, brown with Tom for the same reason) in portraying the awkwardness everyone experiences in the flurries of a new romance, moving quickly to the infatuation stage (Tom is even accused of stalking her) and then on to a grief-like denial, together with hatred, at the realization that it is over.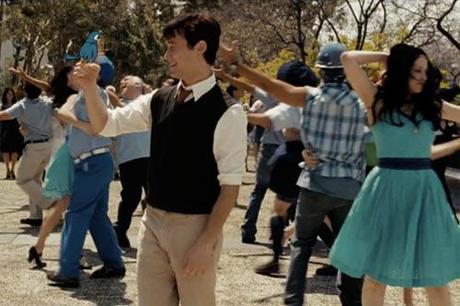 It's impossible to discuss (500) Days of Summer without mentioning the simply wonderful soundtrack which punctuates each scene beautifully, whether it be tragic or endearing. The Smiths feature in Tom's wooing of Summer, especially sharing an elevator together singing "There is a Light That Never Goes Out"; The Pixies' "Here Comes Your Man" is his weapon of choice during a karaoke night when Summer discovers his true feelings for her; and Feist's "Mushaboom" happily plays along at a wedding they both attend. Like in many relationships, certain songs are related to certain events: Tom grows to despise Swayze's "She's Like the Wind" after associating it with the thought of Summer. I've certainly had many-a-band ruined due to boys, and it's little nods to popular culture like this that makes the movie just so very likeable.
A combination of brilliant, believable chemistry between the characters, a witty endearing script and a soundtrack only comparable to High Fidelity (especially Tom blaming his high expectations of relationships on pop music, as Rob Gordon said: 'what came first, the music or the misery?'), (500) Days of Summer is easily in my top ten favorite films, and my all time favorite romantic comedy. Deschanel and Gordon-Levitt are perfect, and as cute, loveable and quirky as the characters they're playing. Still need convincing? There is a spectacular scene that I simply adore: an involuntarily dance routine to "You Make My Dreams" by Hall & Oates following the couples first night together. Quick to dismiss traditional notions of rom-coms, I still can't resist a good dance routine.
"You Make My Dreams" Video from (500) Days of Summer
[Written by Amy Moss of Movie Writing]
5 Hearts / 5