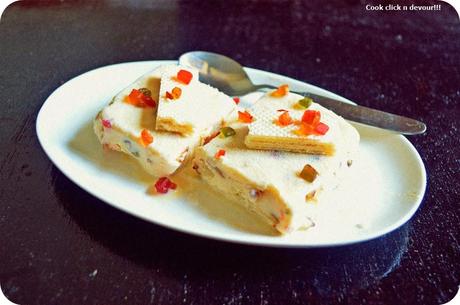 Rocky road ice cream is something very dear to me,I grew up eating this and till date I find it really hard to resist this slice. There is a very famous ice cream parlor in my native and it serves the best ice cream in the town.Amongst various national and international branded ice creams available,we find our self reaching to little space when we really crave ice cream.Here our absolute favorite is rocky road,not to confuse with the famous rocky road ice cream with chocolate and marshmallows,this is an in house rocky road slice where a very tasty vanilla ice cream is mixed with loads of nuts,butterscotch chips and tutti fruity.One spoon and you are sure to be in culinary heaven :). I was very much interested in trying this at home and when I set out to find recipes all I could get was only recipes for traditional rock road ice cream. So I decided to use my no cook vanilla ice cream recipe which I had saved from a magazine and add nuts to it. I really had no hopes that it would turn out well but it worked! Not only it was tasty,it tasted almost the same as we used to get in that shop.I was literally jumping when I tasted it and I kept on eating spoon after spoon during every churn :). First I was little apprehensive to use uncooked cream but I wanted to try at the least so went ahead and made it :). You can make it either as a slice or scoop out as ice cream,I made it into slice,just the way we used to eat :). Go ahead and make some of this non fussy ice cream which doesn't require an ice cream maker and you will be surprised by the taste and creaminess of this ice cream for such a simple recipe :)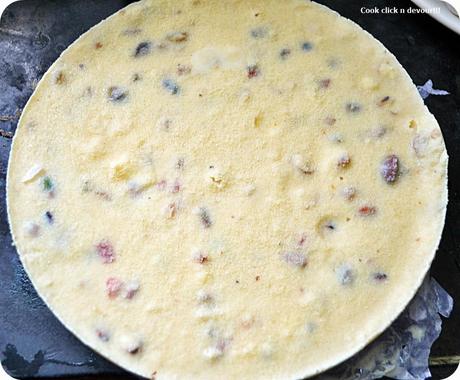 Rocky road ice cream recipe
Star ingredients:Condensed milk and fresh cream
Serves:6 slice
Time:1 hour + freezing time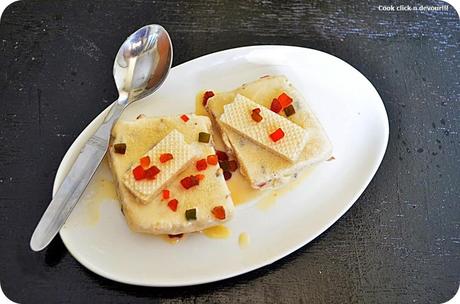 Ingredients:
500 ml fresh or whipped cream
4 tablespoons sweetened condensed milk
3/4 cup toasted chopped assorted nuts
1/2 cup butterscotch chips
1/2 cup tutti frutti
3 tablespoons icing or castor sugar
1 vanilla bean
Method:
1.Take the icing sugar,cream,condensed milk in a bowl and beat well. Scrape the vanilla pith and add to it.Mix and beat very well till all the ingredients are incorporated well.No need to form stiff peaks,just mix well.
2.Transfer the entire content to an airtight box and freeze overnight or 8 hours.
3.Churn the ice cream well with a wooden whipper or spoon to break the ice crystals.Return to the freezer.Do this for every hour for 4 times.
4.During the last churn add the toasted nuts,butterscotch chips and tutti frutti.
5.Line a spring foam pan with buter paper and transfer the ice cream,cover with cling film and freeze for 4 hours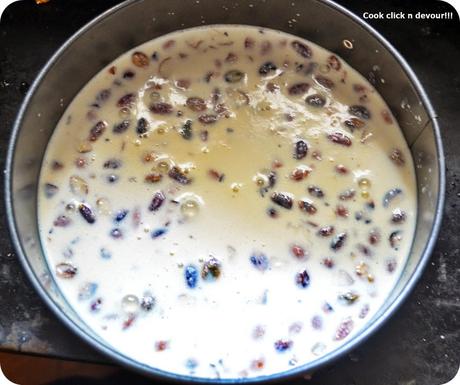 6.Once the ice cream is set,slice and serve immediately.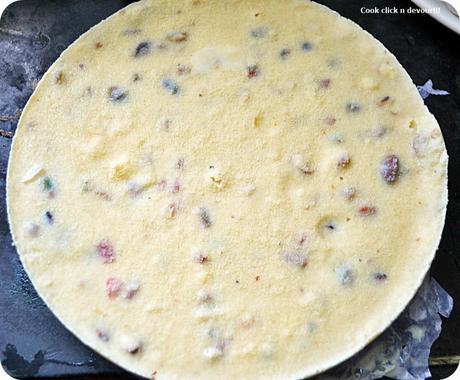 Notes:
1.After folding the nuts you can transfer the contents to a deep airtight box and serve as scoops too instead of slice.
2.You can add some chocolate chips along with nuts.
3. This is the first time I tried ice cream with condensed milk and it worked beautifully just like in cakes,texture wise this ice cream was just like store bought :)
4.Toasting the nuts gives a very deep flavor,you can add raw nuts too but I recommend toasted ones.