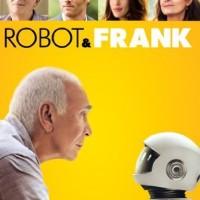 Movie: Robot & Frank
Director: Jake Schreier
Cast: Frank Langella, Peter Sarsgaard, James Marsden, Susan Sarandon and Liv Tyler
Rating: ***1/2
There are three possible ways to interpret what Jake Schreier, at the helm, wants to put across to the audiences of his film "Robot & Frank", a heartwarming take on aging. Of the three possible interpretations, first one is that of aging, second one is about change, and lastly, it's about the effect of technology on human lives. There are other interpretations too but these are very subtly addressed in the film. What could've been another devastating film about an aging father, distanced from his family, is ultimately transformed into an enjoyable experience with appropriate dosage of humor.  
Frank Langella plays Frank, a former thief, divorced and living a life of solitude, far away from his family in rural New York. He still spends most of his time thinking about his good ol' youthful days as a burglar and wishes to get back at it if given an opportunity. His son, Hunter, visits occasionally to ensure that he is doing fine, while his daughter, Madison, video chats every now and then to check on him. As much as Frank loves his kids despite the fact that they are away most of the time, he hates to be checked upon at regular intervals. In essence, he loves to be alone.
Hunter, who finds driving all the way to visit his father a pain in the ass, gifts his father a robot, programmed to be of any service to its master, which in this case is Frank. So when the robot comes barging into the life of Frank, little did he anticipate that its company will change his life forever for good. Frank and the robot build an uncommon companionship along the course of time as they plan and execute heists, much to the suspicion of their neighbors.
Based on the first interpretation, about the process of aging, "Robot & Frank" brings to the fore that people won't stop aging. Frank has grown older but yet finds it difficult to disengage from his past. The second interpretation that of change kicks in at this juncture, where Frank doesn't want to accept that things around him have changed as much as he doesn't like it. Although he's old, suffering from Alzheimer, yet he doesn't require help and wishes to stay alone.
Through the third interpretation we see that it's quite evident that there's a loss of individuality in digital age, where we're so used to technology that we can't imagine a life without it. Set in a near future, this film brings forth the changes that are likely to be brought upon in our lives due to technology and the minimal use of a brain filled with experience and skills. Even though Frank finds it hard to remember things on a daily basis, he still strives to put to work the skills he had acquired over the years as much as possible. Of course, with little help from the robot.
The uncommon friendship between Frank and the robot sweeps you off our feet. It's so beautifully built and you can't ignore the fact the robot in the film has no name. For those probably trying to understand why writer Christopher Ford didn't give it a name, it's for the simple reason that one gets emotionally attached to a name. Brilliant! With the backing of a bigger studio, R&F could've had a wider release, but we all know that most of the studios are either busy producing a reboot of star trek and star wars series or cashing on the screen version of comic book characters.  
Frank is cool as a cucumber in his role and also equally funny and charming. He exudes a million emotions across his face without saying a word. Other members of the cast including Peter Sarsgaard as the robot's voice do their best in their respective roles.