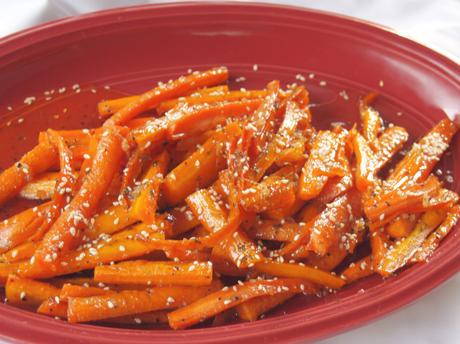 It is so hard to get Rocket to eat any vegetables. Our 7 year old boy would really rather vegetables just disappear from the earth. He's said so. But if there are any vegetables he might be willing to let touch his plate, it's probably carrots. He'll argue that he doesn't mind potatoes, but this mom says potatoes don't count. These carrots are sweet and garlicky with a nutty flavor from the toasted sesame seeds. Everyone in the house loves them and even the very picky Rocket will eat them.
Enjoy!
Roasted Sesame Carrots
INGREDIENTS
2 pounds carrots
3 tablespoons unsalted butter
3 cloves garlic, minced or grated
1 1/2 tablespoons honey
1 teaspoon kosher salt
1/4 teaspoon freshly ground black pepper
1/2 tablespoon Toasted Sesame Seeds (or to taste)
INSTRUCTIONS
Arrange a rack in the middle of the oven and heat to 425°F.
Wash, peel and trim the carrots. If they are more than 1-inch thick, cut them in half lengthwise; otherwise, leave them whole. Cut the carrots diagonally into 2-inch-long pieces. Set aside.
Melt the butter in a small saucepan over medium heat. Continue cooking, stirring occasionally for about 3 minutes. Add the garlic and continue to cook, stirring occasionally, until the butter is light brown, about 30 seconds more. Remove from the heat, add the honey, and whisk to combine.
Cover your rimmed baking sheet with foil for ease of cleanup.
Spread the carrots into an even layer on the pan. Drizzle all the sauce over the carrots. Sprinkle with the salt and pepper.
Roast 15 minutes. Flip the carrots, then roast until the carrots are tender and the edges are charred and crispy, 15 to 20 minutes more.
Transfer to a serving dish. Finish by sprinkling the toasted sesame seeds over the finished carrots. Serve immediately.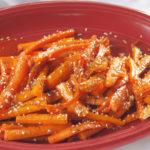 Roasted Sesame Carrots