Did you buy your Mega Millions lotto ticket yet?  I have yet to buy one and have never actually played the lottery except for scratch-offs, which I love.   I usually don't play because I figure it is a waste of money and the odds of winning are so slim, and instead, I spend my money on tangible things like coffee and shoes.  Did you know you are 50 times more likely to get struck by lightning than to win the jackpot?  You (assuming you are an amateur golfer) are more likely to hit two hole-in-ones on consecutive par-3's than you are to win the lottery.  Let's just say, the odds are not in your favor.
But, I think I might as well go ahead and buy one anyways.  Just in case.  It's a record-breaking Mega Millions jackpot and I want to participate.  I have a great recipe for you today that would make for a great side dish for any upcoming spring barbecues.  I've heard it is also a great main dish for a very hungry girl after a long workout.  Not that I would know or anything...
But first a random story about asparagus.
In high school I was involved in a lot of extracurriculars and each of those extra activities often included long bus rides to games or competitions.  This was back in the day before everyone and their brother had an iPod and most people were still sporting personal CD players.  Well the battery in those things weren't great and on bumpy country roads they didn't fair so well and so, my peers and I often found other ways to entertain ourselves on long bus trips.  We played a lot of card games and Never have I ever.  Many new games were also invented on these trips.  One of these games was the vegetable game.  The rules were simple--each person picked a vegetable, one person would start and say their vegetable and another person's vegetable, then that person would say their vegetable and then someone else's vegetable, and around and around it would go.  Kinda like this
"Potato, tomato"
"Tomato, zucchini"
"Zucchini, beet"
"Beet, carrot"
And so on, and so forth.  The part that makes the whole game fun was that you couldn't just say the vegetable.  Instead you had to take both your hands and squeeze your cheeks and mouth together so it was a little hard to talk and gave everyone's voice a lisp.  
The funniest vegetable to have was asparagus.
Go ahead and try it, you know you want to.  Asparagus.
It always brought out a few laughs.  
Pretty sure there was never a winner or loser in this game but it was darn fun and entertained us for about 15 minutes.
And asparagus is stealing the stage again in this tangy delicious salad.  
Now, you might be thinking, "Salads are so boring" but this one is not.  Yes, some salads with plain lettuce and one tomato are boring, but it is all about the toppings!  This salads doesn't even have any lettuce and instead is based on quinoa and there is nothing boring about it.  
It's equal parts tangy, sweet, and scrumptious.
If you haven't tried quinoa yet, I am begging you to try it.  It reminds me a lot of rice but has much more flavor.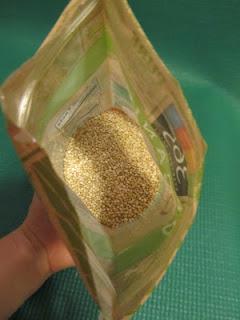 Helpful hint: always rinse your quinoa before cooking because it contains a bitter outer coating.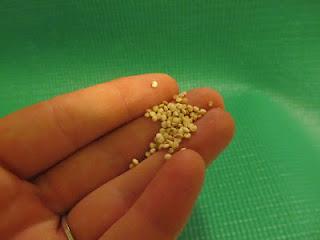 Roast up some asparagus with a little drizzle of olive oil and sprinkles of sea salt.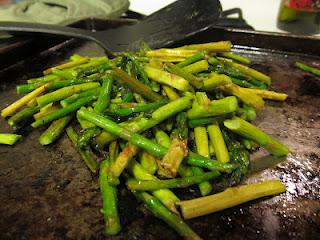 Chop up a few tomatoes.  Campari tomatoes just happened to be on sale at my grocery store this week.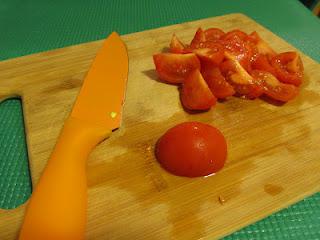 Then it is basically a throw together recipe from here.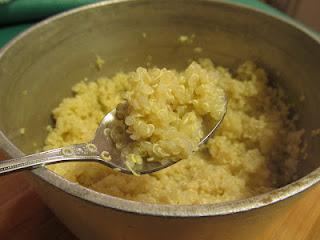 Combine the cooked, now fluffy quinoa with the asparagus, tomatoes, goat cheese, and cranberries in a bowl.  And mix together the dressing of reduced balsamic vinegar, olive oil, and sea salt.  Dump it over the veggies and voila! it's done.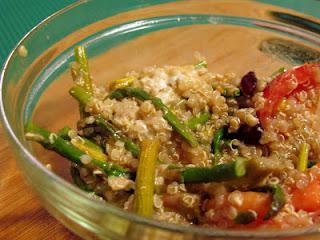 I personally prefer this salad after it's been chilled in the fridge for a few hours.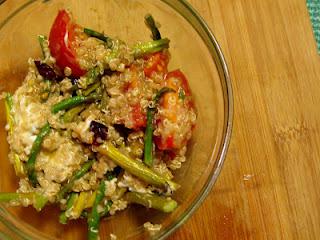 The flavors all blend together that way.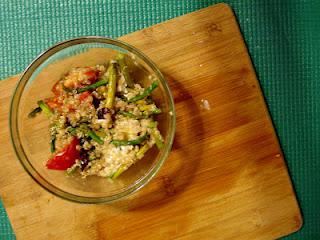 Quinoa provides a complete source of protein to help this meal stick to your bones, while the goat cheese adds in a tang. The cranberries along with the tomatoes give the dish a hint of sweetness. And the veggies will help fill you up as well.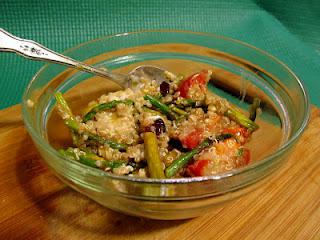 This dish would be perfect to take along to a cookout this summer!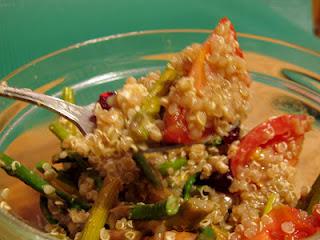 Roasted Asparagus, Tomato, and Quinoa Salad
Time: about 25 minutes
Servings: 2-3
1/2 pound roasted asparagus
extra virgin olive oil and salt
1/4 cup balsamic vinegar
1/2 cup uncooked quinoa
1 1/4 cup water
3 campari tomatoes
1 ounce goat cheese
1 tablespoons cranberries
1 tablespoon extra virgin olive oil
1 teaspoon sea salt
Mix asparagus with extra virgin olive oil and sprinkle with salt. Spread out evenly on a baking sheet and roast in oven set on broil for 12 minutes, flipping halfway.
Meanwhile, rinse the quinoa with cold water (very important step to remove the natural bitter coating!) and add to pot with 1 1/4 cup water and a pinch of salt. Bring to a boil and reduce heat and simmer for 15 minutes or till water is absorbed.
For dressing reduce balsamic vinegar over medium heat till slightly thicker.
Combine in a large bowl tomatoes, goat cheese, cranberries, olive oil and sea salt. Add in quinoa, asparagus, and balsamic reduction.
Dish can be served hot immediately or chilled (my preference is chilled!).