And while I am partial to drinking a soft drink most days, I don't smoke and rarely consume things that are known for staining teeth, like coffee or red wine. I don't really drink either.
Despite this, I've recently felt like my teeth weren't quite as white as they used to be and have been working my way through the whitening toothpastes, without much luck, which is why when the opportunity presented itself to visit Smile Studio Newstead to try Philips Zoom! teeth whitening, I was all in.
The in-clinic Philips Zoom! teeth whitening treatment is a process by which a light-activated hydrogen peroxide gel is applied to the teeth before a blue plasma light activates the solution. It sounds a bit sci-fi and it kind of is.
My appointment was with Smile Studio Newstead's founder, Dr Cate Gerber and both she and her team were lovely and immediately put me at ease because if we're honest, it's always a bit nerve-wracking going to the dentist.
Dr Gerber gave my teeth a quick check up and explained the process to me-describing exactly how the treatment would work and what to expect-encouraging me to ask whatever questions I wanted.
Then, after snapping a few 'before' shots including with a colour chart so we could compare the difference afterwards, it was show time.
For the next 45 minutes, I chilled in the chair with a mouthguard holding my mouth open so Dr Gerber and the Philips Zoom could work their magic in 15 minute sessions.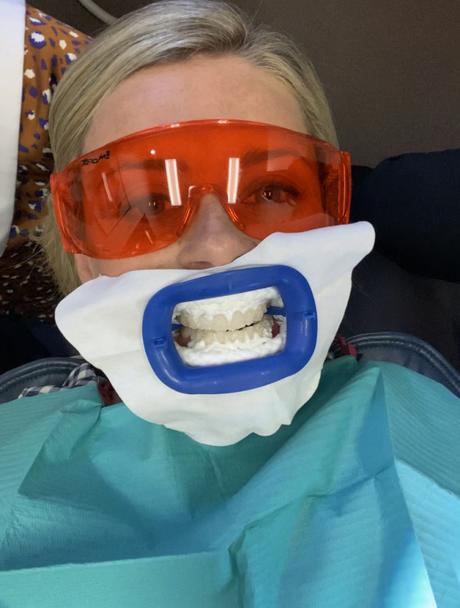 In between each session, Dr Gerber would check in with me (she remained close by the whole time so I could wave if I needed to stop), remove and then re-apply the whitening gel to ensure I'd get the best and brightest results possible.
I was comfortable throughout the whole visit and didn't have a problem with swallowing or drooling or anything like that - the plastic guard wasn't a bother - I just stretched my neck a couple of times in between each session to prevent getting stiff.
Teeth sensitivity was something I was somewhat concerned with as I have noticed my teeth have become more sensitive in spots as I've gotten older and towards the end of my procedure, I started feeling a few little electric shocks above one tooth.
The shocks were bearable, just a tad uncomfortable, but I forgot about them once I focused on watching an episode of Brothers & Sisters on my phone.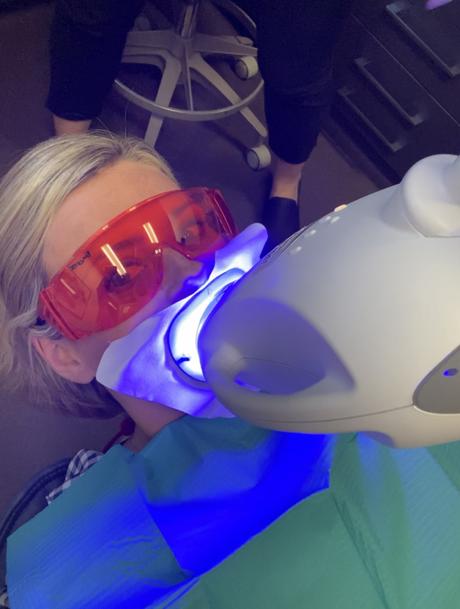 With the final session complete, it was time to remove the gel and mouthguard and reveal my refreshed smile. And boy was it a beauty! My pearly whites were now pearly bright whites.
Dr Gerber advised me not to eat any colourful foods for at least 24 hours-think red pasta sauce, red wine, tomato sauce, or blueberries. And if you can't go without tea or coffee, they recommend using a straw until the colour of your teeth has settled.
I was also given a take-home goodie bag which had a some 'pens' so I can top up my colour from home every few months (or if I have a special occasion where I want to wow people with my smile).
My bag also contained a syringe of pain relief gel which I used at bedtime that night as my teeth felt a little achy - not a sharp pain, more of a dull ache through my teeth - but it was gone by the time I woke up the next morning.
And now for the bit you've probably been waiting for ... the before and after pictures!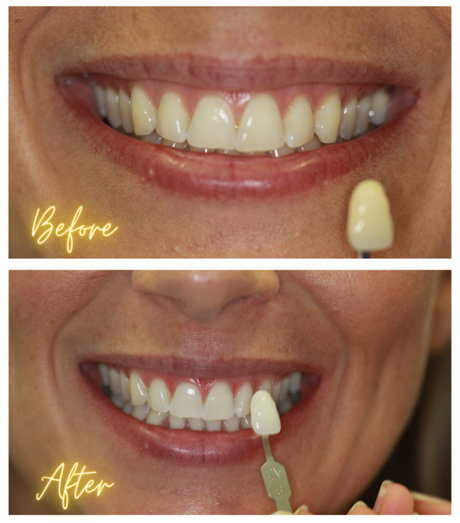 The results are definitely noticeable and although I've always been a smiley person, I couldn't stop smiling for days afterwards to show them off even more.
Although I don't think my teeth are as bright as they were the day of my treatment, they're definitely still whiter than they were and I'm very happy I had the Philips Zoom! treatment.
I did enquire about when I'd need to go back for another in-chair treatment and Dr Gerber told me I should be fine topping up my colour at home with the Philips Zoom! whitening pens, although I could return for another in-chair treatment in a few years time, but rather than a 45 session, it should only take 15 minutes to brighten them back up.
If that's not something to smile about, I don't know what is!
Smile Studio Newstead charges $499 for their in-clinic treatment. Some private health funds may contribute to the cost, however you'd have to check with your provider.
Editor's note: This treatment was gifted to me, however all views expressed are my own.