annualrafting championship in kashmir
Rapids beckon
Jammu and Kashmir is one of the tourism hotspots in India. Its mountains and lakes and rivers are the two natural attractions that entice tourists. Now, more than being just a means of pleasure, the waterways offers an activity oriented way of discovering new leisure sports.
Those who are peaceful by nature may go for shikara riding in Dal and Nagin Lakes in Srinagar. But there are other options for those who prefer adrenalin pumping activities. The Jammu and Kashmir Tourism Department caters to them by establishing a Water Sports Centre at Nigeen and organising competitions in Canoeing, Kayaking etc. Recently international and national level Rafting Championships have also been conducted. For the adventure minded, commercial Rafting has been introduced in Pahalgam and Sonamarg. More demanding is the rafting in Ladakh and Zanskar. To raft in some stretches on Indus and Zanskar rivers one requires to be professionally trained.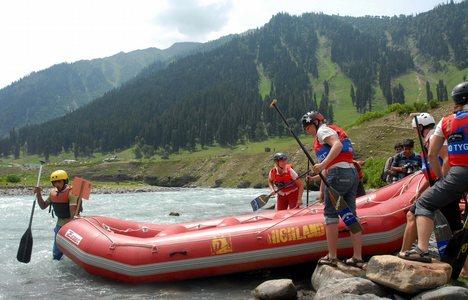 The adventurous sport of White Water Rafting is played on the waters of Lidder at Phalgam and Kashmir, Sindh at Sonamrg and Kashmir and Zanaskar at Kargil. Zanaskar is said to resemble Colorado in United States of America.
The activity that will certainly rank as the most adventurous way of seeing Kashmir will be plunging down the icy waters in a raft. The Lidder River in Pahalgam has stretches that are well suited for beginners which have a gentle character. Another favourite place for rafting in Kashmir is Sonamarg. Through the area the river Sindh roars and this makes the sport little bit challenging for the players. Touching up to four is the grade scale at Sonamarg. The scale ranges from one to six.

  
Check Kashmir article with beautiful pictures
River rafting in Ladakh is a unique experience. One is unlikely to have one anywhere else in the world. It entails the best opportunity to savour the natural beauty of the spectacular landscape with deep gorges, snow capped peaks which holds their head aloft, serene monasteries on hilltops, villages on hillside and the views of unique wildlife. A range of rafting options is on offer in Ladakh on the Indus and its major tributaries. The stretch on the Indus between Spituk and Nimu or Sapol is the best for professionally guided runs in white water. It rates four to five in the international river grading scale. Ideal for basic training or "scenic floating" is the stretch on Indus upstream of Spituk up to Karu, which ranks the easiest. Running the Indus has become an attractive option for visitors in recent years. Several travel agencies offer all inclusive rafting packages to compliment with sightseeing.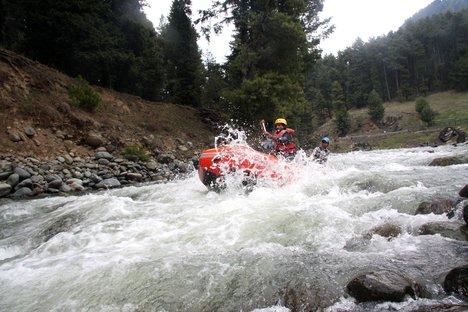 Available on the Zanskar River is the most difficult but exciting rafting option. It is along its spectacular course through a gorge in the Zanskar Mountains, between Padum and Nimu. Only well organised expeditions are suited for this. One has to be prepared for about a week of rafting and camping in absolute wilderness. Apart from that the participants required to be trained in rafting and professional arrangements are required. 
Annual Rafting Championship
is being conducted at Sonamarg in Kashmir. 
Kashmir Tour Packages – Visit

  

||

  

Kashmir Tourist Places - Visit