- 1 3/4 cups low-sodium chicken broth - 1/2 cup water - 4 tsp olive oil - 3 oz cremini mushrooms, trimmed and sliced thin - 1 small onion, chopped fine (I used 3 scallions) - 1/2 cup Arborio rice - 3 oz asparagus, trimmed and cut into 1/2-inch pieces - 1/4 cup frozen peas - 1/4 cup grated Parmesan cheese, plus extra for serving - 2 tbsp chopped fresh basil - 1 tbsp unsalted butter - 2 tsp lemon juice - salt and pepper to taste
Bring broth and water to simmer in a saucepan over medium heat. Remove from heat, cover and keep warm.
Heat 2 tsp oil in a medium saucepan over medium heat until shimmering. Add the mushrooms and 1/4 tsp salt and cook, covered, until just starting to brown, about 4 minutes. Transfer mushrooms in a bowl and set aside. Return now-empty pot to medium heat, add the remaining 2 tsp of oil and heat until shimmering, about 2 minutes. Add rice and cook, stirring constantly, until grains are translucent around the edges, about 1 minute.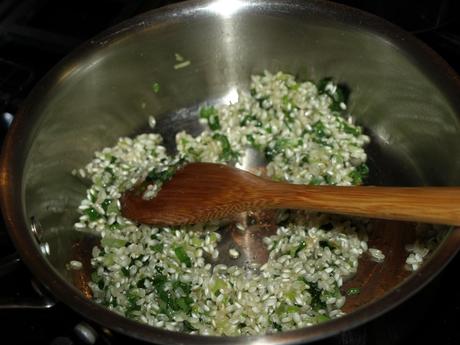 Stir in 1 1/2 cups broth, cover, reduce heat to medium-low, and simmer until almost all liquid is absorbed, about 12 minutes.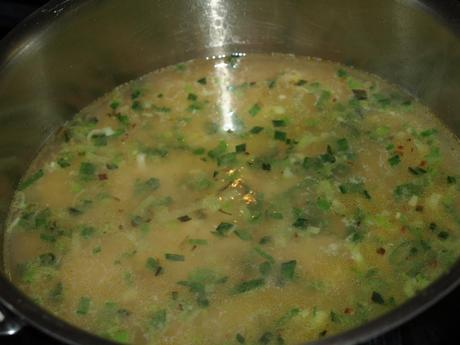 Stir in asparagus, cover and cook 2 minutes longer. Add 1/2 cup broth and cook, stirring constantly, until broth is absorbed, about 3 minutes.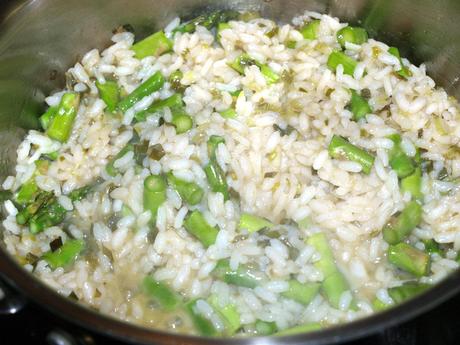 Add remaining 1/2 cup broth and peas and cook, stirring constantly, until rice is creamy and al dente, 3 minutes longer.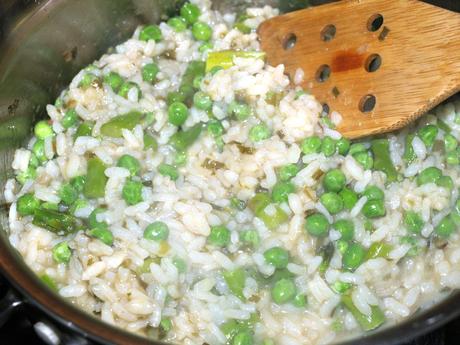 Off heat, stir in cooked mushrooms, cover and let sit for 2 minutes. Stir in Parmesan, basil, butter and lemon juice. Season with salt and pepper to taste. Serve with extra Parmesan.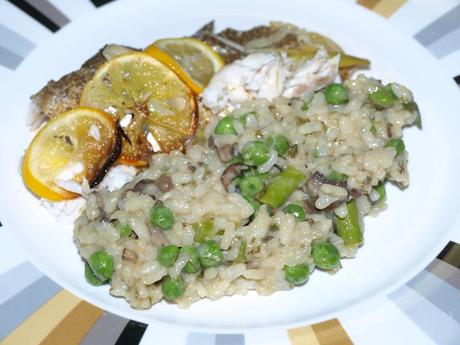 Enjoy!