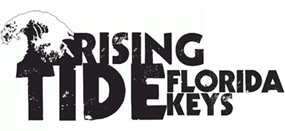 Florida can sometimes be a lonely place for eco-radicals like us here at the Earth First! Journal. So we were overjoyed this week when we received a note from a new direct action group in one of the most ecologically precarious regions of the US—the Florida Keys.
The Keys, known mostly as tourist destination, have also long been a battleground against the forces of greed and industry (since the days of industrialist Henry Flagler's railroad).
While Key West has long boasted of the Conch Republic (motto: "We seceded Where Others Failed"), which has celebrated a mock  independence movement every April since '82, we hope to see Rising Tide bring a new, slightly more ambitious revolutionary sentiment in the region. 
Here's what the Florida Keys Rising Tide group had to say about itself:
"Are you fed up?
Sick of the county and the cities continually changing their comprehensive plans to suit developers?

Tired of the utilities being more interested in selling water and kilowatts than helping the Keys make a serious and rapid transition to alternate energy?

Stupefied that Key West would dredge a channel to bring in even bigger cruise ships, that Crane Point in Marathon would be allowed to build a zip line in a protected area to entice even more tourists, that county planners would push for a shopping mall on Rockland Key, or that an electric utility would build on a protected coastal area?

Stymied by local environmental groups that still hope for voluntary action? Or convene endless meetings and then issue un-acted upon reports?

Or fed up by the greenwashing by local governments and businesses that think that if we just recycled more we'd stop the ravages of global warming?
Meanwhile, the oceans are rising, the reef is dying, fishing stocks are depleted, and calamitous weather is striking all over the globe. 
But if you are disgusted by the continual erosion of our environment while developers, government and the chambers only want more, then join us now.
We're Rising Tide of the Florida Keys.
Rising Tide is an international, all-volunteer, grassroots network of groups and individuals who
Organize locally

Promote community-based solutions to the climate crisis and

Take direct action to confront the root causes of climate change.
We do not believe that the dominant, business-friendly means of addressing climate change will have any significant impact on preventing catastrophic global warming. Nor do we accept the idea that environmental groups must cozy up to governmental organizations in order to effect change. That has not worked.
Want to hear more? If you're interested in helping us form an active and aggressive Rising Tide chapter here in the Keys, one of the most vulnerable areas to global warming, then respond to this email and we'll be in touch.
It's time we took action to stop business as usual."
To get in touch with the Key's Rising Tide, contact: rtflkeys [at] gmail.com