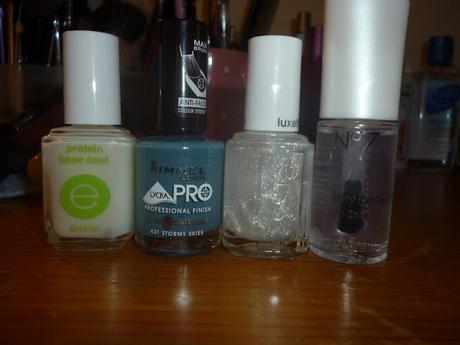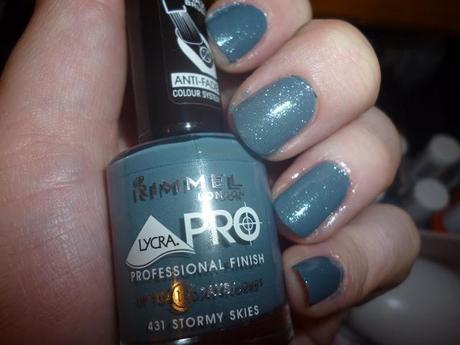 I have been dying to try the Essie Luxe Effect polish in Pure Pearlfection since I bought it at Pro Beauty but just haven't had time to sit and do my nails.
I decided to paint it over Rimmels Professional Finish Polish in Stormy Skies as I have had this in my collection for a while now and I haven't featured it on here yet.
Stormy Skies is a gorgeous gray blue that applied effortlessly. It has one of those fat brushes so just one sweep and nail is pretty much covered. This was opaque in just one coat too which is a bonus.
Now onto the gorgeous Essie Pure Pearlfection Polish, as soon as I saw this I knew I had to have it. It is a hard color to describe but it is a clear shimmery color with a silver/pearly effect. It is a polish that will look good over any color and give it that extra something. What I love the most about it is that it removes so easily. I love the look of a lot of glitter/shimmer polishes but I can never be bothered to wear them as they are such a bitch to remove. I think that this is more of a shimmer than a glitter and it removes with ease, it feels smooth on the nails too.
Overall I am loving both polishes and would recommend you pooping out to get them.
The top and base coat I am currently using are Essie Protein Base Coat and No7 Stay Perfect Top Coat. I'm still undecided on both of these but I am sure I will review them both at some point.
What have you got on your nails at the moment?