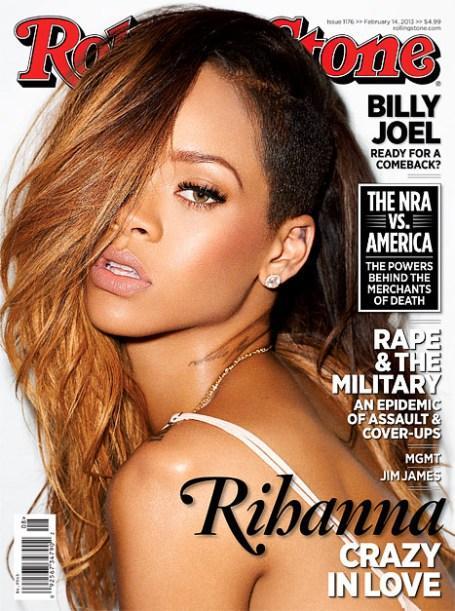 -Rihanna defends her relationship with Chris Brown in the new issue of Rolling Stone, saying "You think you know, but it's different now." Commence global eye-roll…now!
-After a lot of drama (which involved pretending to be ill while really shopping with her mother in NYC), Lindsay Lohan finally dragged her ass to court today, where the judge told her (and her ridiculous new lawyer) that her probabation remains revoked and that her trial will start March 18. But hey, she arrived in a Hummer sporting the license plates "IMTRYNG," so there's that.
-Ashley Judd and Dario Franchitti announced their separation last night, and she quickly tried to reinforce the "amicable" bit by following up the announcement with a sweet tweet.
-George Clooney continues to be the dreamiest dreamboat, paying the tab of the guy eating next to him because he thought his table was being too loud. (The recipient  btw, thought George's group was behaving "in a very cultivated manner" and didn't even notice him.)
-Oh goodie. Ke$ha is debuting an MTV reality series in April.
-Oh goodie, part deux. Justin Timberlake is performing at the Grammys.
-Will Smith and Jay-Z are producing a modern day remake of Annie (what?), but rumours that it'll star Willow Smith aren't true (whew!) and it'll be directed by Easy A's Will Gluck (yay!). That just gave me so many feels.
-There will be an Entourage movie, for some reason. At least Adrian Grenier seems pretty happy about it.
-Jason London didn't just drop some homophobic slurs in a cop car, he also dropped a deuce!
-I love this photo of Goldie Hawn and Kurt Russell snapping pictures of Kate Hudson's new Ann Taylor poster. Such proud parents!
-How I Met Your Mother has been renewed for a final season. (I can't believe they lured Jason Segel into one more year, but at least it's being put out of its misery.)
-Just in case we momentarily forgot, Cate Blanchett reminds us that she's total perfection with this Armani Privé dress.
-It it wrong that I was kind of impressed by J.C. Chasez's cover of The Lumineers' "Hey Ho"?
-Sweet! The Strokes just announced a new album called Comedown Machine, coming on March 26.
-These photos of Nicole Kidman palling around with Russell Crowe at the airport are kind of adorable.
-Lucy Liu got a pie in the face after playing an especially messy game of "Rock, Paper, Scissors" on Fallon.
-Bradley Cooper's abs caused women to "literally fall off their bikes" at a recent spinning class. Since when did the world turn into a Cathy comic strip?
-Lots of Community goodness today! I got the screener for the premiere (haven't watched it yet, but I'm tingly with anticipation), plus the show's writers and Joel McHale will be participating in AMAs Feb. 6th and 7th, respectively. Meanwhile, here's a clip from the Community premiere.
-Speaking of sitcoms, I really liked Vulture's piece defending New Girl as the best sitcoms on network TV right now. It's certainly getting there (and might have an even better shot at the title soon, considering the uncertain futures of Happy Endings, Parks and Rec and Community). Plus, last night's episode was pure gold. (Click here to read an interview with the show's creator about how this jaw-dropping moment almost didn't happen.) The show has gotten markedly better, especially when you compare it to say, The Mindy Project, which has become increasingly erratic.