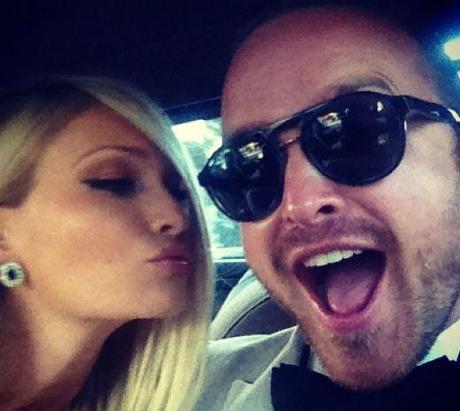 (Instagram.com/glassofwhiskey)
-Aaron Paul tied the knot this weekend. (Sigh. I knew he'd get impatient while waiting to meet me…) I love that his Breaking Bad costar Byran Cranston was in the wedding party, but now his Instagram account is going to get even more mushy. He just posted a photo of his new wife with the caption "A day will never go by without me reminding you how special you are." You're killing me, Jesse!!
-It was a big weekend for celebrity weddings. Arrow star Stephen Amell (re)married Cassandra Jean on Sunday in New Orleans.
-Amanda Bynes continues to make words. Lots and lots of words. First she slammed Rihanna for no reason, then she announced she wants to be a rapper, and now she says she's suing the NYPD and her apartment building.
-Sadness: Angelina Jolie's aunt passed away from breast cancer early Sunday morning.
-Taylor Swift and Lena Dunham continue their BFFing, spending Memorial Day weekend together. Is anyone else having a hard time imagining them hanging out? I mean, what does that conversation even look like? (Lena: "I want to challenge society's patriarchal attitudes by upending expectations with unconventional exhibitionism." Taylor: "I want to ride unicorns!")
-Aw man, Jennifer Lawrence's stalker is Canadian?
-Prince covered Pearl Jam's "Easy Flow" and it's surprisingly awesome.
-Chris Brown could end up in prison for violating his probation over that alleged hit-and-run. He doesn't seem too concerned, though. He was spotted partying in Vegas with on-again/off-again GF Karrueche Tran.
-Anna Kendrick worries that Blake Lively is a freak of nature. It's a valid concern.
-Of course Miley Cyrus' phone case has a giant marijuana leaf on it.
-Mayim Bialik's divorce is now official.
-Kristen Stewart actually looks kind of happy. Who approved this?!
-Whaaaa?? Dan Harmon says he's been asked to return to Community, confirming that NBC has no idea what the hell they're doing.
-Mariah Carey wants you to name her puppies. Nope, that's not a euphemism.
-It looks like Chris Pine may have already moved on after splitting from his fiancee.
-They're making a movie out of Death Comes to Pemberley (yes!) and Matthew Rhys may play Mr. Darcy.
-George Clooney spent another weekend without Stacy Keibler, who was busy flashing her underwear in Monaco.
-Chace Crawford and Rachelle Goulding are reportedly still going strong. I know. I can't believe it either.
-While he debates his future with SNL, Jason Sudeikis enjoys some beach time with Olivia Wilde in Hawaii.
-I only made it to episode 3 of Arrested Development before I became overwhelmed and realized binge-watching wasn't the way to go. I liked what I saw,  except I wasn't feeling Portia de Rossi's face (though it looked like she wasn't either).
-Kit Harrington's quest to meet everyone in Toronto except me continues — and now even Rachel McAdams is getting in on the action!
-Speaking of Kit, Game of Thrones wasn't on last night, but we did get Jimmy Fallon's amazing GoT parody.
-Will Smith reunited with DJ Jazzy Jeff and  Alfonso "Carlton" Ribeiro to recreate the Fresh Prince of Bel-Air theme song — and it was awesome!