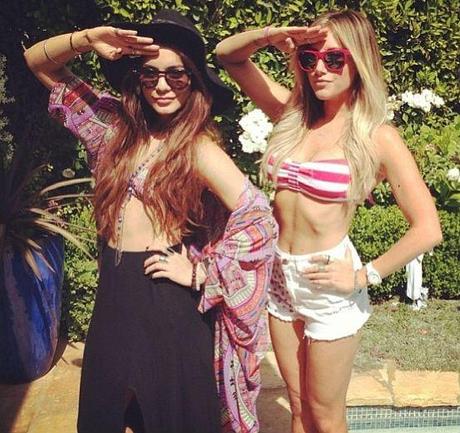 (instagram.com/vanessahudgens/)
-Vanessa Hudgens and Ashley Tisdale honoured the troops on Memorial Day by posting a stomach-sucking bikini shot on Instagram. "Flanders Fields," it ain't.
-Whoa. WHOA. People.com posted a story yesterday about Robert Pattinson and Katy Perry hanging out together, and then quickly took the story down. Everybody, please set your eyebrows to "raised." [Update: the story is back up on the site, with a follow-up. But now Us Weekly is reporting that Katy has reunited with John Mayer. The plot thickens.]
-Before that, everyone was making a big deal out of this Instagram photo of Robert with a blonde. (There's also a bunch of other people, but none of them are hot blondes so apparently they don't count.)
-Meanwhile, Rob has moved back into his house – which is just a few streets away from Kristen Stewart's. #awkward
-Amanda Bynes claims her Twitter was hacked and that she didn't actually say those things about Rihanna. She also says she doesn't do drugs and is a "model citizen." Mmm-hmmm.
-Meanwhile, the NYPD is calling bullshit on her claims that she was groped by the police.
-Also, when your behavior is even scaring Courtney Love, you have a problem.
-This spoilery article about Before Midnight makes me simultaneously excited to see it and also kind of sad.
-Andrew Garfield is really owning the whole 'cuteness overload' thing this week.
-The awesome Joss Whedon delivered an awesome commencement speech: "Don't just live. Be that other thing connected to death. Be life." (Here's some shaky video.)
-It's kind of adorable that Drake's dad accidentally leaked the alleged tracklist for his new album.
-Will and Jaden Smith gave an interview to Vulture, and it's partly adorable (I love the end when Jaden is complaining about how his dad is always trying to impart life lessons and he just wants to go to the movies), but it's also partly weird. Gawker picked apart some of the stranger comments, especially the whole "student of patterns" bit. (Which should come as no surprise to anyone who remembers Will's slightly creepy Time interview, in which he explained how he became a movie star:  "We looked at (the top box office list) and said, O.K., what are the patterns? We realized that 10 out of 10 had special effects. 9 out of 10 had special effects with creatures. 8 out of 10 had special effects with creatures and a love story."
-Daniel Radcliffe says he'd be up for returning to the Harry Potter franchise one day if there's ever a sequel. Wow, did Woman In Black really do that badly at the box office?
-The new Bridget Jones movie will be called Bridget Jones: Mad About the Boy. Is the boy in question a son? And am I a terrible person for hoping that it's not?
-Justin Bieber is still showing off his abs…on purpose.
-Meanwhile, NFL Keyshawn Johnson called the police on Justin for reckless driving in his neighbourhood and then chased him – causing Justin to run away "like a scared little child."
-Also, Justin has returned to Twitter after "taking time" for himself. Yay?
-Even Seth Rogen is making fun of Rob Ford at this point.
-Hugh Jackman pitched a tent.
-Leonardo DiCaprio has reportedly moved on to yet another Victoria's Secret model. He's soon going to run out of those.
-Ok, Matthew Rhys may have just made me warm up to the idea of him playing Darcy by saying, "I don't have to appear from a lake in a white shirt and breeches."
-More photos of director Ryan Gosling being director-y have landed.
-The contract negotiations are still in full swing, but Mark Ruffalo says he really wants to be part of The Avengers 2.
-Zoe Saldana was spotted making out with Pirate Perego again.
-Just in case you weren't already aware, Beyonce would prefer it if you did NOT spank her booty during concerts.
-Meanwhile, the Destiny's Child reunion is still happening. There's even a new single, "You've Changed."
-Speaking of the DC crew, Kelly Rowland broke down on stage in the middle of a concert.
-Clearly, Kanye West didn't remember the Alamo.
-It looks like Aaron Paul sold his wedding photos to People, which makes me a little sad. (Not so sad that I wouldn't want to lick his face, but still…)
-Blake Lively and Ryan Reynolds were spotted at an airport in Berlin. I would have never pegged her as a 'flip-flops on the plane' kinda girl.
-I dig how the guy who plays Jack on Revenge pretty much admits that the show sucked this season in a new interview.
-The prime minister of Australia is a big Game of Thrones fan, specifically House Targaryen because, you know, dragons and shit.
-Everyone's wondering why Demi Moore missed her daughter's college graduation.
-Bet you didn't see this one coming: James Lipton says he was once a pimp in Paris.
-Did the producers of Smash have something against Anjelica Huston?
-The more clips I see from Monsters University, the more I'm totally charmed by it.
-I'm not sure about any of these actresses that are gunning to play Hilary Clinton. Jessica Chastain, maybe?
-Leave it to Megan Mullally and Nick Offerman to give an interview that is both incredibly sweet and incredibly filthy. He almost makes felching sound romantic.
-Meanwhile, you should watch Nick demonstrate how to make a "Ron Swanson Turkey Burger" (a deep-fried turkey leg inside a beef burger) because…meat!
-Does anyone else find the idea of Heidi Klum giving parenting advice odd, given some past rumours?
-The girl who plays Shoshanna on Girls is trying to Kickstart a folk album and is failing miserably.
-Is Kim Kardashian trying to strike a deal with Weight Watchers to lose her baby weight? That might explain why she keeps allowing herself to be photographed like this.
-A new trailer for Rapture-Palooza has landed, starring Anna Kendrick.