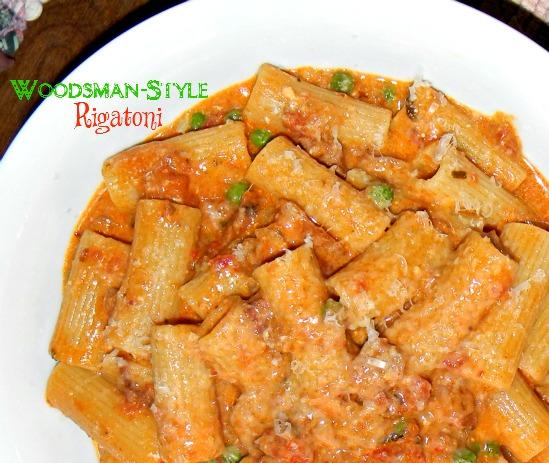 While I love trying new recipes, I also love making well received old ones. This recipe was an oldie but goody, buried 8 feet under a mile long wish list.
I thought I posted this, I remember printing it but I was 100% sure it graced our dinner table. What's not to love? It hits all the favorite buttons in this house and I had exactly a cup of homemade ricotta cheese in the fridge.
I have seen two versions of this recipe, one with the ricotta and the other, not. If you have ricotta use it, it adds a texture to the sauce and helps it to cling to the pasta, but add it right before the final toss so the curds stay intact.
A pantry always stocked with everything to make this recipe, and even if I can not run to the store to purchase fresh mushrooms, you will always find a bag of every dried mushroom hanging in this (packaged as an assortment).
I suppose you could use a good turkey or chicken sausage, but check the labels. Most of them have the same amount of fat that you find in pork sausages and if that is the case, the pork will give you 4x more flavor. I usually cut the amount the recipe calls for by 50% and also drain on a paper towel if I see more than a tablespoon of fat in the pan after cooking. 
While I would love to be outside grilling, the weather is soaring into the 100's, so a one pot dinner cooked in an air conditioned kitchen is exactly what the doctor ordered.
Rigatoni Woodsman Style
Rigatoni alla Boscaiola
serves: Serves 6
Lidia writes:
This a recipe that everybody loves and it is easy to make and so exemplary of Italian home cooking. Most likely the roots are somewhere with the shepherd community of the Apennines with the ingredients being pasta, ricotta and some meat in a casing. The other ingredients are an embellishment of living too well.
3 tablespoons extra-virgin olive oil
1 medium onion, chopped
1 pound sweet Italian sausage, without fennel seeds, removed from casing
1 pound mixed mushrooms, (button, cremini, shiitake, oyster) thickly sliced
6 fresh sage leaves
1 (28-ounce) can Italian plum tomatoes, preferably San Marzano, crushed by hand
1 teaspoon kosher salt
1 pound rigatoni
1 cup frozen peas
1 bunch scallions, chopped
½ cup heavy cream
1 cup ricotta
1 cup grated Grana Padano or Parmigiana-Reggiano
1. Bring a large pot of salted water to boil for pasta. In a large skillet, heat olive oil over medium heat. Add onion and cooked until onion is softened, about 4 minutes. Add sausage and cook and crumble with a wooden spoon until sausage is no longer pink, about 4 minutes.
2. Add mushrooms, cover and cook until mushrooms release their juices, about 2 minutes. Uncover, add the sage and tomatoes. Bring to a simmer, slosh out the tomato can with 1 cup pasta cooking water and season with the salt. Bring the sauce to a simmer and cook uncovered, until thickened, about 10 minutes.
3. Once the sauce is thickened, add the peas and scallions. Cook until scallions wilt, about 2 minutes. Add 1 cup pasta water and the heavy cream. Bring to a boil and cook until thickened, about 2 minutes.
4. Meanwhile, add the rigatoni to the pasta water and cook until al dente. Remove pasta with a spider and add directly to the sauce, cook and toss until the pasta is coated with the sauce. Off heat, gently mix in the ricotta, sprinkle with the grated cheese and toss again. Serve immediately.