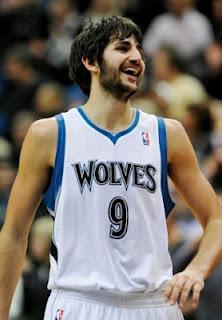 Photo: AP Photo - Jim Mone
- Troy Ballard
Ricky Rubio may look like a 15-year old kid that was able to grow a beard early, but we are quickly learning he is changing a team in Minnesota and improving the Timberwolves by leaps and bounds.
Most T-Wolves fans didn't know who Rubio was when Minnesota drafted him in '09. When Googled, fans found highlight after highlight on Youtube that showed a young kid dishing the rock like Steve Nash with flashy passes and smooth layups. Excitement quickly ensued.
But due to contract issues with Rubio's Spanish team, he was barred from coming to the NBA. As the Wolves' continued to flounder, Rubio was forgotten and became nothing more than a 'remember that kid?'
Finally, this season, despite the lockout, Rubio has crashed the NBA party -- and he's looking good doing it.
Rubio has meshed beautifully into the NBA. His flashy attitude, sweet dimes, solid jump shot, and great touch around the rim has been a bolt of lightning in Minnesota. The entire Minnesota team has bought into what Rubio is selling, and it's working.
As of now, Minnesota is sitting right at .500, two games out of a playoff spot.
Wait -- What?
Yes, you did indeed read that right. Rubio has the T-Wolves in position to make a playoff run. It's been a long time coming for Minnesota, but Rubio has re-energized the team and has a legit chance to make a run as a rookie in the NBA.
Of course, Rubio does have help in Minnesota. Most notably from Kevin Love, who is easily one of the most under-rated players in the NBA. Love has exploded onto the scene, and for the second straight season is an absolute monster on the court.
But don't take too much away from Rubio, who is practically averaging a double-double a game. He is seemingly always finding the open man, expanding Minnesota's offense to Nash-esque proportions. Rubio's defense is rough around the edges, but he still isn't considered a liability.
If not for the Cleveland Cavaliers Kyrie Irving, Rubio would be a near-lock for Rookie of the Year. The two are in close contention, but what Irving is doing is slightly more impressive because he has no supporting cast in Cleveland.
Admittedly, we here at Beard and Stache were skeptical about how Rubio would transition into the NBA. We didn't know if he could adjust to the defensive intensity and the flat-out speed of the game in the association. But like most other NBA fans, we had only been able to watch short highlights of his craft.
With Rubio now in the NBA -- dominating and leading an up-start Timberwolves team -- it's easy to buy into the Spanish Sensation.
Be sure to follow Beard and Stache on Twitter @BeardAndStache, and also Troy @TroyBallards, Like our Facebook page HERE!