My love for face oils and serums is not new for my readers. It always leads me to explore new options, brands everytime and this time its a Serum Again, from +Richfeel Trichology Centre .
Richfeel is a brand known for its Trichology- hair care consultations and solutions since so many years and it has forayed into skin care too with a wide range of products.
I have already tried Eye Cream from the brand and while searching for something light for night care as facial creams can also be heavy during summers so serums are the best choice. I came across this new Range- Skin Logix from Richfeel. This is Skin Logix Advanced Night Repair Serum with swiss apple stem cell.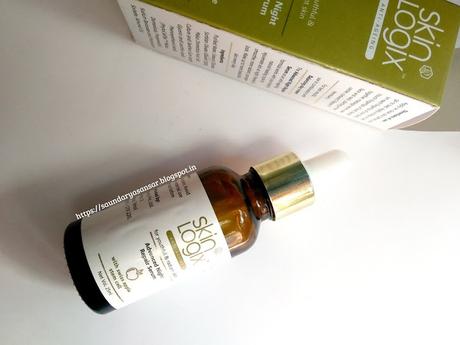 Price- 749 INR for 25 ml. Available on shopping sites like Nykaa, Amazon etc.
Although I could not find any information about the product or the range from their website but gathered little information from the shopping site.
The Advanced Night Repair Serum as an anti-ageing formula works with your body's natural healing cycle to rejuvenate skin at night. Reveal a smoother, more radiant, younger look. wake up to more beautiful skin every day.
Ingredients- Purified Water, Cetearyl Olivate, Sorbitan Olivate (Olivem 1000), Malus Domestica fruit cell culture (and) Xanthum Gum (and) Glycerin (and) Lecithin (and) phenoxyethanol (and) phytocellTec TM Domestica, Propanediol, Sodium Benzoate, Potassium Sorbate and Almond Oil.
Directions of Use- Apply on clean skin before you go to bed. Apply a drop or two on each fingertip of one hand, touch fingertips of both hands together, massage serum over face and neck, starting at the center, outward. Repeat if necessary.
I am using this Richfeel Skin Logix Advanced Night Repair Serum regularly since last couple of months, although I purchased it long back but when i had major break outs, preferred to skip all the creams, lotions and serums. When I was back to my normal skin, started using this.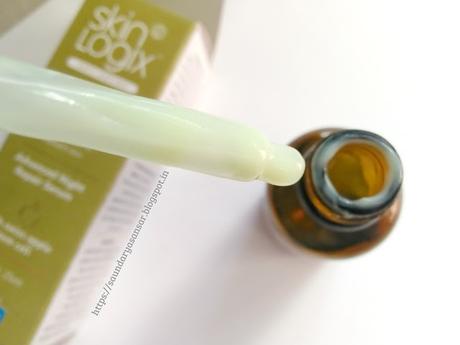 The serum comes packed in dark coloured glass bottle sealed with a dropper cap. Contrary to usual serums, its quite thick like creamy lotion- pastel green in colour and smelling of apple puree...strange isn't it. The serum is so thick that it was extremely difficult to pull out the product with dropper. I had to scoop out the serum with dropper and it was not easy. Proper pump dispenser would have worked well in this case.
I did not like the smell and felt like applying apple puree every time while applying on face.
As per instructions, one really needs 1-2 drops to cover the face. it sinks in within few seconds of applications without leaving any residue or greasiness on my face. Although this serum was meant for only Night applications but to test this thoroughly I used it both day and night.
After applying in night, I found my face plump, dewy and fresh while during the day, it settled to matte finish but my face was well hydrated. I hardly ever applied a face moisturiser except on few occasions where I had to apply makeup.
What I liked that It did not break me out but this did not worked on anti ageing claims- no change in skin texture or shrinking of pores. With other face oils like Votre Skin Serum or Iraya Face Oil or serums where I found reduction in white/black heads too; nothing of the sort happened with this serum.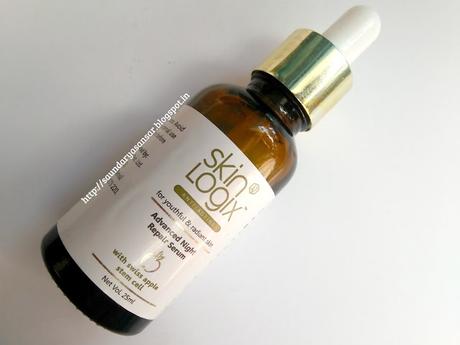 Overall I would say that this Richfeel Skin Logix Advanced Night Repair Serum is good for young girls of 20+ just to maintain their skin texture while hydrating the same. Better packaging would have been appreciated. If you are looking an anti ageing solution, skip this.