I'm Late.
Again!
Seems to be the story of my life.
Always missing deadlines even though I program myself to do other wise.
Some things are like generic programming errors.
This blog post was written in August 2013 but apparently I forgot to publish it.
So my masala crackers got lost in the annals of baketitide.
Actually I was looking for the recipe to make these again...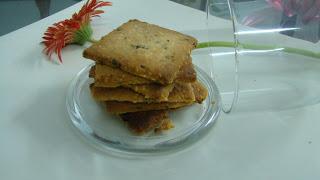 I was so craving these mathi like crackers to munch on with my green tea. Also I wanted to make some for the time  I was packing my house to move to Mumbai. And these were to be munchies ,so I searched and found the draft.A little editing and we are good to go...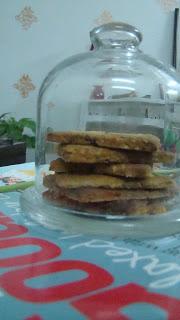 for the
Rice and Curry leaves in my Crackers-Masala Crackers-Daring Bakers August 2013...
you need
1 3/4 cup maida or plain flour
2 tbsp rice flour
1 tsp baking powder
1/4 tsp baking sodaor bicarbonate of soda
1 tsp salt or to taste
1/2 cup or 120 mls butter I used Amul butter chilled
3 green chilies finely chopped
3/4 inch of ginger finely chopped
2 tsp finely chopped fresh curry leaves
1 1/2 tsp coarsely ground black pepper
1 1/2 tsp coarsely ground roasted cumin seeds
1 tbsp chopped fresh coriander
3 -4 tbsp cold yogurt
1 tbsp sugar to taste
1 -2 tsp black or white sesame seeds
1 tsp oil to brush the tops of the biscuits
Mix the flours and baking soda and baking powder,sugar and salt in a large bowl.
Cut the butter into chunks and place in the flour mix.
Pulse them in a food processor or cut the butter into the flour like pie crust pastry.
Add in the coriander, curry leaves, ginger and green chillies. Along with the pepper and cumin seeds.
Now knead the dough with the yogurt.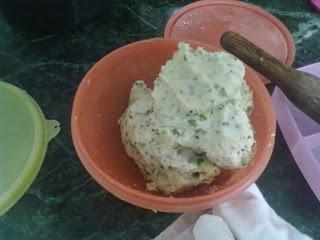 Allow the dough to rest a while In the fridge.
Divide the dough into two parts amd roll out thinly between cling flim.
Cut into squares or into circles.
Sprinkle the crackers with a little sesame seeds. Prick with a fork and place on a cookie sheet.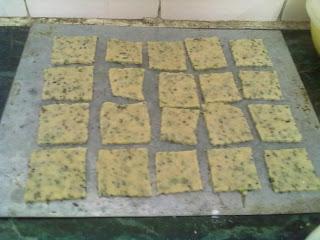 Preheat your oven to 180°C.
Baste the crackers with the oil .
Bake for 8 to 12 minutes. ..till the crackers look done on the edges.
Place the crackers on a wire rack to cool.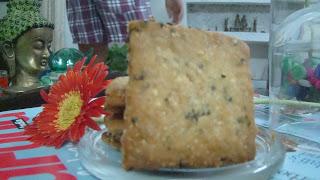 These crackers are super easy and crisp. They have desiflavors that make them feel like mathis or mathris with a twist. The best part is that they are baked.
A little bit on the low side as regards to calories.
The curry leaves and ginger give tjem a very south Indian flavor profile and the rice flour makes them super crisp.  The sesame seeds are Healthy with a capital H.
The best part about the rice flour.
Easy.
If you have none , simply wash and dry white or brown rice and dry in the shade. Grind in your coffee grinder and sieve yo get even fine or superfine homemade rice flour.
Try them...especially when it rains...


So what are you baking today???