At Big City Little Blog, we have been clamoring for our favorite set of Housewives to get back on television and were thrilled to hear Miss Sonja Morgan herself was throwing a #sonjainthecity premiere party. Held at the posh Beautique, we headed downstairs where the Lady Morgan herself was waiting at the end of the stairs, affably greeting every guest. The red carpet is where Sonja Morgan shines brightest- especially when joined by her partner in crime and co-host Ramona Singer.
The two playfully posed on the packed red carpet, having the time of their lives! After chatting between themselves, they called out for fellow housewife Dorinda Medley to share the carpet with them, putting to rest those Page Six rumors of a rift between the housewives.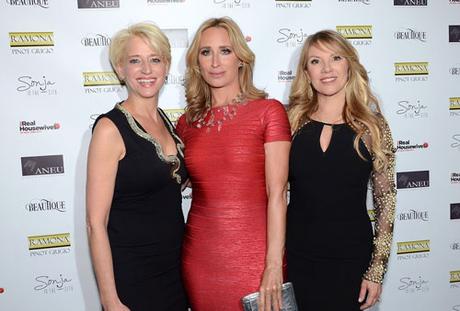 Once inside the lounge, there was a feast waiting for us courtesy of Aneu Catering and Events who put together the best vegan & gluten free food we've ever tasted. Guests were raving about the Sweet Potato salad and the Chicken Salad was equally delicious. Running into dear friend Heather Grabin of AICHG, we headed to the bar where Ramona Pinot Grigio was abundantly flowing all evening. While the duo was graciously hosting, Dorinda and boyfriend John mingled with guests, happily talking and taking pictures with every single person who asked. If this night was any indication of what is in store for Season 8, we will be glued to our televisions every week!
Check out some more photos of the fabulous event below.
Photos courtesy of Andrew Werner Photography