This weekend the Royal Geographical Society held their annual fieldwork and expedition planning weekend, Explore. I was quick to buy a ticket a couple of months ago and lucky enough to attend this weekend - due to various reasons I could only attend the Saturday, the main day of the weekend, but Saturday proved incredible and helpful enough.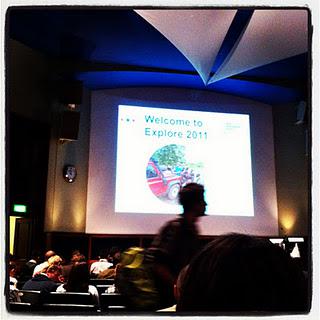 Saturday provided a range of lectures for all the delegates from 10 in the morning through to 3, with a morning coffee break and a surprisingly good lunch. From 3.30 we split in to our desired workshops for the next couple of hours; I chose to attend the Desert workshop where Sam McConnell and Charles Foster were in charge to spread their vast amount of knowledge on this environment. The lectures for all ranged from medical to funding and included a short speech by the legend that is Michael Palin, Chairman of the Royal Geographical Society. During lunch and tea breaks I was able to talk to a whole range of people including other delegates, adventurers, outdoor companies and catch up with Dave Cornthwaite and Ed Morgan, who I'd met at Explorers Connect. Luckily there were very few people I wanted to talk to and didn't get the opportunity to; Michael Palin was one of these!
During the day, and the Desert Workshop, I was able to start planning my Sinai Peninsula Expedition for next Summer; various ideas for kit, equipment and future expeditions came from the workshop. A whole host of information regarding the Sinai came from Sam McConnell who will hopefully be helping me organize and carry out a crossing of the Sinai whilst also visiting various historical and remote sites and people whom I hope to photograph and write about.
If you were there how did you find it? If I met you then please get in contact! I can't wait for next years' Explore, hopefully in the mean time a couple of expeditions will take place, my writing experience will increase and I'll have some more knowledge of my own to help people out with.