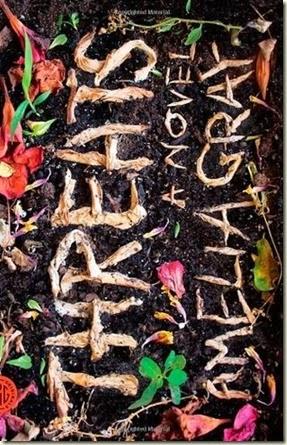 Threats

 by Amelia Gray Summary: David's wife is dead. At least, he thinks she's dead. But he can't figure out what killed her or why she had to die, and his efforts to sort out what's happened have been interrupted by his discovery of a series of elaborate and escalating threats hidden in strange places around his home—one buried in the sugar bag, another carved into the side of his television. These disturbing threats may be the best clues to his wife's death:
CURL UP ON MY LAP. LET ME BRUSH YOUR HAIR WITH MY FINGERS. I AM SINGING YOU A LULLABY. I AM TESTING FOR STRUCTURAL WEAKNESS IN YOUR SKULL.
Detective Chico is also on the case, and is intent on asking David questions he doesn't know the answers to and introducing him to people who don't appear to have David's or his wife's best interests in mind. With no one to trust, David is forced to rely on his own memories and faculties—but they too are proving unreliable.
In THREATS, Amelia Gray builds a world that is bizarre yet familiar, violent yet tender. It is an electrifying story of love and loss that grabs you on the first page and never loosens its grip.
Source: I purchased a paperback
Add to Goodreads
Review:

I saw Threats in the bargain section of my local Barnes and Noble and immediately picked it up. What an interesting premise! I love weird books with a splash of darkness, so I thought Threats would be promising.
Threats was a weird book. And while I like weird, Threats was too weird. The writing was both amazing and terrible. I think I need to explain. In short snippets, the writing was awesome. It was profound and poetic in pieces. But as a whole, I don't feel like enough of the plot was revealed. It was a mess of pretty words, meaningful apart, but meaningless together. It's not that I didn't appreciate the strangeness, I just needed something more. I needed answers. David was losing his grip on reality, but I never really understood why, how, when, etc.
Honestly, I'm not sure what the F*** I just read. I just needed some sort of connection, some sort of end tied up, some sort of reason for the entire book. I got nothing but ramblings, disconnected thoughts, actions that were strange and never explained. I'm not even sure what kind of book Threats was, so I wasn't sure what sort of world I was working with.
Threats was also difficult to read because the main character had some major issues with normal everyday tasks. Everything went into the basement and I couldn't get over how the entire house seemed to be rotting and the character didn't even care.
I don't know if I'd recommend Threats. I like weird, but I guess not all weird. I wished there was more of an overall conclusion. I kept waiting for that moment where I figure out why the character suddenly became insane, how his wife died, what the police thought, etc.. but it never happened.