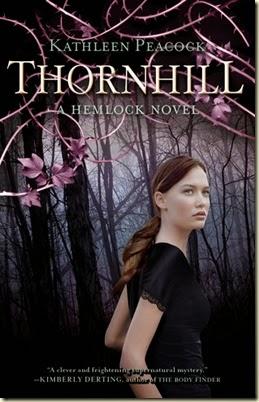 Thornhill (Hemlock #2)

 by Kathleen Peacock Summary: Mac can't lose another friend. Even if he doesn't want to be found.
The ripple effect caused by Mac's best friend Amy's murder has driven Mac's new love, Kyle, to leave Hemlock and disappear from her life forever. But Mac knows that Kyle plans to enroll in a rehabilitation camp, where he can live with other werewolves. She refuses to accept his decision, especially since the camps are rumored to be tortuous. So she sets out in search of Kyle with a barely sober Jason—and Amy's all-seeing ghost—in tow.
Clues lead Mac to find Kyle in a werewolf den in Colorado—but their reunion is cut short by a Tracker raid. Now Mac and Kyle are trapped inside the electric fences of Thornhill, a camp for young werewolves. As she devises an escape plan, Mac uncovers dangerous secrets buried within the walls of Thornhill—and realizes that the risk to the people she loves is greater than ever before.
Source: I purchased a copy for Kindle
Add to Goodreads
Review:


This review may contain spoilers from Hemlock, book one in the Hemlock series.


 I really enjoyed Thornhill. It was a thrilling sequel to Hemlock and even more action packed. I loved how the novel took a little more of a dystopian turn when Mac found herself in a werewolf camp that wasn't at all what it appeared to be on the outside. Something strange was going on and, of course, Mac was going to figure out what it was.
I love Mac as a heroine. She's so fierce and funny. She really cares about her friends and goes above and beyond to rescue them when they need it. She's not afraid to get hurt, even when she's terrified, if that makes sense. I just love her so much. I love ghost Amy and her snarkiness that helped Mac sort through the clues and figure out what happened as the story progressed. Amy was more like a projection of her own subconscious, so her presence really helped Mac sort through the events she went through.
I know I said it in my review of Hemlock, but I love the Jason-Kyle-Mac love triangle. I don't know why, but I think it's a love triangle that is done right. I like both of them and the way they care for Mac.
There were tons of awesome twists and jaw dropping moments, which made the book so entertaining to read. Action, drama, romance, and humor all have their place in Thornhill. I highly recommend the series to any fan of entertaining YA paranormal novels.