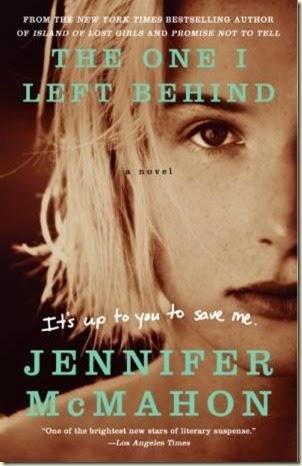 The One I Left Behind

 by Jennifer McMahon Summary: Bestselling author Jennifer McMahon is back with a gut-wrenching mystery about an architect whose troubled mother has been found 25 years after being kidnapped-by a killer who is still on the loose.
The summer of 1985 changed Reggie's life. Thirteen, awkward, and without a father, she finds herself mixed up with her school's outcasts-Charlie, the local detective's son, and Tara, a goth kid who has a mental hold over Reggie and harbors a dark secret. That same summer a serial killer called Neptune begins kidnapping women. He leaves their severed hands on the police department steps and, five days later, displays their bodies around town. Just when Reggie needs her mother Vera-an ex-model with many "boyfriends" and a thirst for gin-the most, Vera's hand is found on the steps. But after five days, there's no body and Neptune disappears.
Now a successful architect who left her hometown behind after that horrific summer, Reggie doesn't trust anyone and lives with few attachments. But when she gets a call from a homeless shelter saying that her mother has been found alive, Reggie must confront the ghosts of her past and find Neptune before he kills again.
With her signature style, Jennifer McMahon portrays the dark side of adolescent friendship and introduces characters who haunt the imagination, along with a disturbing web of secrets, betrayals, and murder.
Source: I purchased a paperback
Add to Goodreads
Review:
I love Jennifer McMahon's books. I love the mixture of secrets, being a kid and not fully understanding the adults around you, murder, and small towns. The One I Left Behind is longer than a lot of her other novels, but I thoroughly enjoyed it and was glad it was full of so much more detail.
The story flipped back and forth between 2010 and the summer of 1985. Reggie's mom was the last victim of the serial killer Neptune and her body was never found when Reggie was a kid in 1985. In 2010, Reggie was living away from her hometown as a successful architect and returned to her hometown once news of her mother's return reached her. It was crazy that Vera, Reggie's mom was found alive. Her brain was kind of muddled, so she was unable to tell anyone what happened or where she'd been.
In the summer of 1985, Reggie was getting into trouble with her friends and growing up. And like most kids, she didn't quite understand the world around her and the relationships between the adults in her life. But when her mother went missing, she tried to figure out what happened with her two friends. She was getting into trouble, feeling inadequate, crushing on one of her best friends, and building a tree house. Her mother definitely had some darker habits and secrets that Reggie seemed kind of oblivious about, but there were so many people who could have had something to do with her disappearance.
I had no idea who Neptune was. It's safe to say I suspected just about everybody at one point in the book and I liked not really knowing. As secrets unraveled, the relationships between the people in Reggie's life were complicated and more interconnected than Reggie would have believed. And Reggie had her own share of issues, some due to her mom's disappearance, but others due to lack of self esteem. It was interesting to watch the story unfold.
While Don't Breathe a Word is still my favorite novel by Jennifer McMahon, The One I Left Behind is definitely in the number two spot. I enjoyed the way it unraveled, the secrets, and the growth of Reggie that terrible summer.