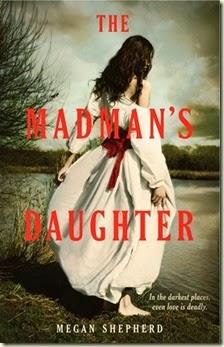 The Madman's Daughter (The Madman's Daughter #1)

  by Megan Shepherd   Summary: In the darkest places, even love is deadly.
Sixteen-year-old Juliet Moreau has built a life for herself in London—working as a maid, attending church on Sundays, and trying not to think about the scandal that ruined her life. After all, no one ever proved the rumors about her father's gruesome experiments. But when she learns he is alive and continuing his work on a remote tropical island, she is determined to find out if the accusations are true.
Accompanied by her father's handsome young assistant, Montgomery, and an enigmatic castaway, Edward—both of whom she is deeply drawn to—Juliet travels to the island, only to discover the depths of her father's madness: He has experimented on animals so that they resemble, speak, and behave as humans. And worse, one of the creatures has turned violent and is killing the island's inhabitants. Torn between horror and scientific curiosity, Juliet knows she must end her father's dangerous experiments and escape her jungle prison before it's too late. Yet as the island falls into chaos, she discovers the extent of her father's genius—and madness—in her own blood.
Inspired by H. G. Wells's classic The Island of Dr. Moreau, The Madman's Daughter is a dark and breathless Gothic thriller about the secrets we'll do anything to know and the truths we'll go to any lengths to protect.
Genre: YA Gothic Romance
Release Date: January 29, 2013  

Where to Buy: Amazon . Barnes and Noble
Add to Goodreads  

Source: I purchased a Kindle copy.  

Review:
The changes in the season have made me want to read books with more of a horror or gothic twist to it, so I opened up The Madman's Daughter, excited to finally get around to it. The synopsis sounded extremely intriguing, and Juliet sounded like a character I could really appreciate. The beginning of the book really drew me in. From Juliet cleaning up blood from the floor of the medical center to her knowing exactly how the injure the hand of the surgeon attempting to have his way with her so that he'd never do surgery again, I was completely engrossed in the novel and I loved Juliet.
Unfortunately, the beginning was the best part. Once Juliet tracked down her father and the trail led her to her family's old servant, Montgomery, the adventure began. Her father had actually been alive the entire time, living on an island with Montgomery and the strange natives. And the boat picked up a castaway by the name of Edward who was running from family in London.
The overall plot of The Madman's Daughter was spectacular. It was full of horror and mystery. The issues of the time period were relevant because of Juliet being a woman and her father and the rest of the world wanting to marry her off instead of believing she was capable of practicing medicine herself. I loved the conflict and challenge of all of that. However, Juliet was drawn to Montgomery. And Edward. And Montgomery. And she thought Montgomery was into another girl on the island. Jealous Juliet tried to make him jealous and all of a sudden, this smart and challenging girl became a completely exhausting character.
While much of the mystery of the island was not predictable, most of it was obvious and had Juliet been doing something other than worrying about her feelings, perhaps she would have discovered everything a lot sooner. I liked Montgomery and Edward and I loved the conflict and mystery surrounding both of them. I even enjoyed the bit of romance between each of them and Juliet. It's just that I wasn't expecting such a That-Kind-of-YA book. I really didn't know it was more of a romance than a gothic tale, so I was really disappointed. It wasn't a bad story, it's just not something I recommend reading directly after finishing something a lot more descriptive and mature.
I would recommend The Madman's Daughter as long as readers are aware it's heavy on the romantic conflict and love triangle. If you're prepared for that, it will be a superb read. I may continue the series, even. Overall, I was disappointed, but my expectations were a lot higher. If you are looking for a YA take on a gothic tale, it's definitely a good book!