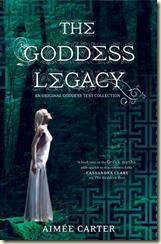 The Goddess Legacy (Goddess Test #2.5)

  by Aimee Carter   Summary: For millennia we've caught only glimpses of the lives and loves of the gods and goddesses on Olympus. Now Aimée Carter pulls back the curtain on how they became the powerful, petty, loving and dangerous immortals that Kate Winters knows.
Calliope/Hera represented constancy and yet had a husband who never matched her faithfulness....
Ava/Aphrodite was the goddess of love and yet commitment was a totally different deal....
Persephone was urged to marry one man, yet longed for another....
James/Hermes loved to make trouble for others - but never knew true loss before.... H
enry/Hades's solitary existence had grown too wearisome to continue. But meeting Kate Winters gave him a new hope....
Five original novellas of love, loss and longing and the will to survive throughout the ages.   Contents: The Goddess Queen
The Lovestruck Goddess
Goddess of the Underworld
God of Thieves
God of Darkness   Source: I borrowed a copy of this book for Kindle from my local library.
Review:


   I enjoyed the novellas in The Goddess Legacy. I was able to get to know the characters a little bit more by getting their backstories. The first story was Hera/Calliope, then Aphrodite/Ava, then Persephone, then Hermes/James, and lastly, Hades/Henry.     Even though Hera's story explained her character well and she had legitimate reasons to be the way she was, I still can't stand her. Her story was the worst to read for me because I knew nothing would change for her and she'd spend her entire existence being petty, jealous, and ridiculous. I liked getting some more perspective, it's just that I still can't stand her.     I really liked Ava's story. Even though I don't condone her lifestyle and I was kind of taken aback when she told Kate she was married in book two, I liked getting her side of it and watching her fall in love with Hephaestus. Understanding her and the reasons for choosing him really gave her character some more depth.     Persephone's story was important because it was from her perspective. So much of the Goddess Test series includes references to Persephone and assumptions about the kind of person she was and what she felt, but no one ever really got her side of the story. I was interested to see that Persephone was kind of a brat and not the kind of person Kate thought she was and I really enjoyed getting her narrative in the Goddess of the Underworld.     James is another character I can't stand. His backstory was interesting and he was a crucial part of the story and the gods staying relevant to society, so I enjoyed the novella. I found him to be quite petty in Goddess of the Underworld, but James was one of those people who is both likeable and horrible at the same time. I loved his adventure in God of Thieves.   I was looking forward to the story of Hades the most. I wanted to get his perspective about the goddess tests before Kate and sort of get inside his head a little bit. I wish the novella was longer and more detailed, but I was still satisfied by all that I learned. I have such a soft spot for his character and God of Darkness was a bit of an expansion upon the prologue of The Goddess Test, which was nice.     Overall, I enjoyed The Goddess Legacy. There were moments where I wished the novellas were shorter because I knew how I felt about the characters and their stories didn't really change anything for me. I liked getting the backstories, but I am also looking forward to reading the next book to see the plot advance a bit more and that's my main issue with novellas. I got too much of characters I hated, like Hera, and not enough of the characters I was most interested in, like Hades. I would recommend the book to fans of the series who are interested in more content and getting to know the characters before they were the people Kate meets in The Goddess Test.