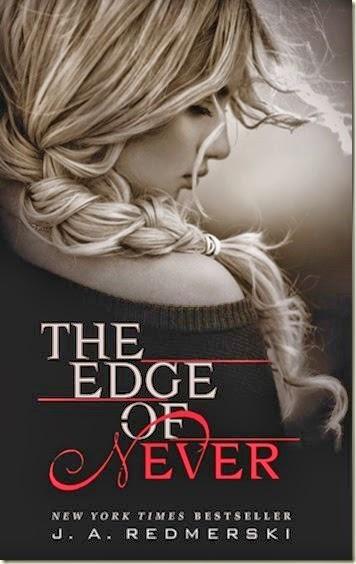 The Edge of Never

 by J. A. Redmerski Summary: Twenty-year-old Camryn Bennett had always been one to think out-of-the-box, who knew she wanted something more in life than following the same repetitive patterns and growing old with the same repetitive life story. And she thought that her life was going in the right direction until everything fell apart.
Determined not to dwell on the negative and push forward, Camryn is set to move in with her best friend and plans to start a new job. But after an unexpected night at the hottest club in downtown North Carolina, she makes the ultimate decision to leave the only life she's ever known, far behind.
With a purse, a cell phone and a small bag with a few necessities, Camryn, with absolutely no direction or purpose boards a Greyhound bus alone and sets out to find herself. What she finds is a guy named Andrew Parrish, someone not so very different from her and who harbors his own dark secrets. But Camryn swore never to let down her walls again. And she vowed never to fall in love.
But with Andrew, Camryn finds herself doing a lot of things she never thought she'd do. He shows her what it's really like to live out-of-the-box and to give in to her deepest, darkest desires. On their sporadic road-trip he becomes the center of her exciting and daring new life, pulling love and lust and emotion out of her in ways she never imagined possible. But will Andrew's dark secret push them inseparably together, or tear them completely apart?

Due to sexual content and language, this book is recommended for 17+ – Adult Contemporary Women's – New Adult Fiction
Add to Goodreads
Source: I received a copy from NetGalley in exchange for an honest review.
Review:
The Edge of Never was an an addictive and satisfying read. I had forgotten what it was about when I started to read it randomly on my Kinde, but the book just sucked me right in. I liked the straightforwardness of the narration and I connected with Camryn's character. I didn't realize that the book was a NA Contemporary Romance, since I had forgotten what the synopsis was, but I figured the plot was heading into the romantic direction once Camryn met Andrew on the bus.
I have a love/hate relationship with most romance novels, especially the New Adult category. I read far more NA novels that end up being more like erotica with terribly flimsy plots than actual stories and romances with those more mature scenes peppered into a good plot. Fortunately,  The Edge of Never was a good example of what I think New Adult should be. I enjoyed the story, I thought the plot made sense, I connected with the characters, and their relationship formed slowly. I was able to watch the characters connect before the book ever turned into a romance at all. Nothing is wrong with erotica or even books with more sex than plot, but nothing irritates me more when I'm in the mood for a good story than getting a disappointing one. I'm very happy that The Edge of Never delivered a decent story that stole my heart.
Andrew and Camryn were two similar souls that randomly found each other as their paths crossed. Their personalities meshed really well and they settled into a familiar friendship pretty easily. I loved how they both looked at the world and how well they connected on a deeper level. I was rooting for them the entire time and I enjoyed watching them go from strangers to friends to a couple.
I thought the story had a decent mixture of humor, sappiness, seriousness, and fun. The characters could joke around one moment and have a serious conversation the next. Andrew was tough, but he had his softer moments. They both seemed like very realistic characters and I think that's what captivated me the most. This wasn't a story about some rock star, millionaire, or tough guy with some cowering female lead waiting to be noticed like so many other romances. Andrew's tattoos or musical talents were simply parts of a bigger person.
I knew I was taken by The Edge of Never when I became emotionally invested in the characters and I was on the edge of my seat near the end. I definitely recommend the book.