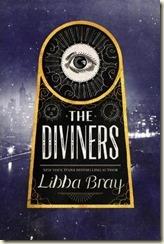 The Diviners (The Diviners #1)
  by Libba Bray  
Summary:
Evie O'Neill has been exiled from her boring old hometown and shipped off to the bustling streets of New York City--and she is pos-i-toot-ly thrilled. New York is the city of speakeasies, shopping, and movie palaces! Soon enough, Evie is running with glamorous Ziegfield girls and rakish pickpockets. The only catch is Evie has to live with her Uncle Will, curator of The Museum of American Folklore, Superstition, and the Occult--also known as "The Museum of the Creepy Crawlies."
When a rash of occult-based murders comes to light, Evie and her uncle are right in the thick of the investigation. And through it all, Evie has a secret: a mysterious power that could help catch the killer--if he doesn't catch her first.
Source:
I purchased a hardcover copy. And it is gorgeous. =)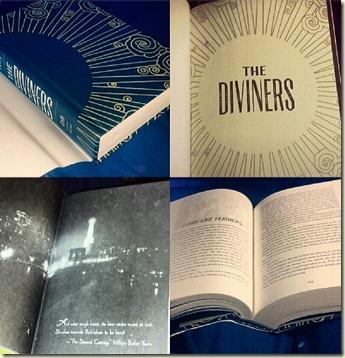 Review:

The Diviners
was an absolutely spectacular book. The writing was superb with a magical quality to it and the story was fantastic. I cannot gush about this book enough. I loved it. It was intelligent and obviously well researched. A historical setting, murder mystery, flapper New York attitude, occult symbols mixed with religious cults, a spooky haunted mansion, a forbidden romance, weird dreams, and boisterous characters came together in
The Diviners
to form an amazing story.
"...and besides, it's 1926 - who believes in haunts and hobgoblins when there are motorcars and aeroplanes and the Cotton Club and men like Jake Marlowe making America first through industry?"
 
Evie was one of those characters that I couldn't stand at first. She was the complete opposite of me and most readers. She hated reading, research, and any kind of studying. I think some negative reviews of
The Diviners
will probably be because the reader disliked Evie and didn't want to continue reading about her. And it's easy to dislike her. She was selfish, immature, and ridiculous. She didn't take anything seriously and wanted to have nights out on the town without a care in the world. But she had a lot of depth and different aspects to her and all of that ridiculousness was on the surface. By the time I finished the book, I appreciated Evie a lot more than I ever thought I would. I loved her. Which is weird. How often does a character you hate end up being one that you thoroughly love? Because she was such a crazy character, she was unpredictable. Sure, I can relate more to the quiet and reserved and somewhat nerdy characters, but not being able to relate to Evie meant that everything she did surprised me. You never knew if she'd do the right thing or the wrong thing and if she'd do the right thing for the wrong reasons or the wrong thing for the right reasons. And eventually, I grew to love her as a person. She was flawed, but aren't we all? And who says only the quiet and reserved teenagers get to have adventures and stories?
"'Your mother and I do not approve of drinking. Have you not heard of the Eighteenth Amendment?'
'Prohibition? I drink to its health whenever I can.'"
 
You know you're reading a good book when you can dislike the main character for so long and still think ALL the characters in the book were absolutely wonderful. And they were. Jericho, the quiet and studious helper of Evie's Uncle Will; Memphis, the numbers runner in Harlem and his little brother, Isaiah; Mabel, the plain Jane daughter of socialist radicals; Sam, the adorable and charismatic thief; Theta, the Zeitgeist dancer with a troubled past and her "brother" Henry were all amazing characters with their own backstories. I loved each of the storylines involving them and the way they overlapped in the midst of the occult-based murder mystery. I grew to care about all of them.
"Evie replied with an eye-roll. 'Do you think you can manage to not steal anything while I'm gone?'
'The only thing I'm trying to steal is your heart, doll.' Sam smirked.
'You're not that talented a thief, Sam Lloyd.'"
The Diviners
was delightfully written, too. I learned so much about the time period. I loved how the characters used the slang of the 20's. I felt so completely immersed into the setting. Every scene was enjoyable and had layers of complexity to them. Some pages were full of hilarious banter between the characters, others were deep conclusions about cults, religion, or life. Some pages had both. It was the most amazing story because it was funny, terrifying, complex, light, dramatic, romantic, magical, simple, and elegant all at once. I was so completely captivated and engrossed in the book from the first chapter. Libba Bray has to be one of the most talented writers I've come across in the YA genre.
The Diviners
was just short of 600 pages and it wasn't nearly long enough. That is how thoroughly amazing the novel is. The scenes were so vivid, I could see it all unfold like a movie. In fact, I don't know if it NEEDS to be a movie or if it's just so good, it already IS to those of us who've read it. Every tiny piece of the book was well executed to the point of flawlessness. Each spooky scene is complete with its own haunting tune of Naughty John. It gives me goose bumps just thinking about it, while other scenes made me laugh out loud.
"Naughty John, Naughty John, does his work with his apron on. Cuts your throat and takes your bones, sells 'em off for a coupla stones."
Some negative reviews mention the slang as being distracting or annoying. I loved it because it created the atmosphere. It wasn't annoying to me at all. In fact, I gave
Pretties
and
Specials
by Scott Westerfeld negative reviews for the use of futuristic annoying language that distracted me from the story. So those things often don't work for me. But the language in
The Diviners
added to the story for me. I think perhaps the mixture of the slang and Evie's dislikable character rubbed people the wrong way at first, but I think persevering through the story will eventually pay off for most readers. Perhaps it was annoying at first because of Evie, but I grew to appreciate the use of it and I thought it made the story more realistic and believable.
"'Oh, law, law, law,' Blind Bill said, patting his chest. 'Ain't that the way of the world, now? Good luck turns bad. Bad luck turns good. Just a big rolling craps game played between this word and the next, and we the dice getting tossed around.'"
If you're looking for an intelligent and captivating YA novel,
The Diviners
is it. I highly recommend it to anyone. I can't imagine anyone not loving it to some degree. It is worthy every minute of reading. I will definitely continue the series and read anything else ever written by Libba Bray. I'm now a fan.
"'It isn't your fault. There's nothing more terrifying than the absoluteness of one who believes he's right,' Will said."
This book completes the Historical Mystery category in the Eclectic Reader Challenge 2013.