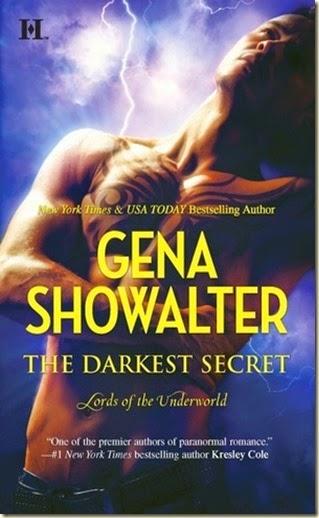 The Darkest Secret (Lords of the Underworld #7)


 by Gena Showalter
 Summary: In this sexy new installment of Showalter's bestselling Lords of the Underworld series, the haunted Amun meets a woman who tempts him like no other...
Keeper of the demon of Secrets, Amun can manipulate the darkest thoughts of anyone nearby. But when the immortal warrior is chained and isolated to protect those he loves, death is his only hope of release—until he meets Haidee, a fellow prisoner whose beauty and hidden vulnerability draw him into a reckless test of his loyalty.
Haidee is a demon-assassin, raised to despise Amun's kind. Yet how can she hate the man whose touch sets her aflame? But to save him, she must give herself body and soul...and face the wrath of a powerful adversary sworn to destroy her.
Source: I purchased a paperback
Add to Goodreads
Review:
After feeling a little "meh" reading The Darkest Lie, I wasn't even sure I was in the mood to continue to series. I continued (mostly because it's the only book I brought with me on vacation) and I'm really glad I did because The Darkest Secret might actually be my favorite in the series so far. I really really enjoyed it, a thousand times more than I thought I would. We haven't really gotten much information about Amun up until this point, so I had no idea what to expect. On top of that, I was certain at the end of The Darkest Lie that Strider and Haidee were about to have a thing and I wasn't really enjoying their chemistry at all. I was kind of shocked all around to not only get to have Amun front and center, but to also have the romance between him and Haidee.
Amun was pretty screwed up after the events in The Darkest Lie and demons had all but taken over his head. Anyone who got close to him started to get a little twitchy and crazy, too, with all the demons trying to influence them. Amun was going mad, unable to control himself, and had to be guarded by Lysander's angel friends. It was all kind of a mess. Strider locked up Haidee, a Hunter and hater of the Lords, in the cell next to Amun, and he wasn't worried about Haidee's well being or the harm in her being placed so close to demon crazed Amun.
Amun didn't talk because he was afraid he would spill secrets if he opened his mouth. He signed instead and it was virtually his only way to communicate with others. With Haidee, though, he was somehow able to project direct thoughts into her head. She waltzed on into his cell once he "asked" her to do so. He looked A LOT like Haidee's hunter boyfriend Micah, and that's who she initially thought he was. No one was really happy about the two being close because Haidee was obviously a threat, but somehow, she was able to calm the demons inside of him, even Secrets, which was a big deal, so the Lords decided she had to stay next to him and keep him sane.
I loved their romance and I loved the way the two of them had to understand each other. Amun was used to always knowing everything about everyone and he couldn't read Haidee for some reason, aside from bits and pieces of her past. Haidee hated the Lords, but she never really understood that they weren't really evil, like every other Hunter. The two of them were forced to come together. They also had to venture back down into Hell to save Amun from the demons inside of him, which put a huge strain on their relationship and they encountered some pretty crazy stuff down there.
 As I said, The Darkest Secret was probably my favorite installment so far. It surprised me because I didn't already know or could predict how things would unfold because Amun was such a vague character who didn't have a personality I knew anything about yet. I liked Amun way more than I originally expected to. I definitely recommend the series. It can be a little over the top with cavemen alpha male tropes, but I love the Lords and the mythology of the world. I can't wait to read more!