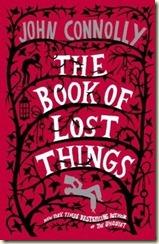 The Book Of Lost Things
  by John Connolly  
Summary:
High in his attic bedroom, twelve-year-old David mourns the death of his mother, with only the books on his shelf for company. But those books have begun to whisper to him in the darkness. Angry and alone, he takes refuge in his imagination and soon finds that reality and fantasy have begun to meld. While his family falls apart around him, David is violently propelled into a world that is a strange reflection of his own -- populated by heroes and monsters and ruled by a faded king who keeps his secrets in a mysterious book, The Book of Lost Things.
Source:
I purchased a copy of this book in paperback from a small bookstore in Killarney, Ireland.
Review:

I absolutely loved
The Book of Lost Things
. Completely. Somehow, it caught my eye as I was browsing the Irish Authors section of a bookstore in Ireland and the synopsis couldn't have been more perfect for me and what I was in the mood for.
The Book of Lost Things
was intelligent, magical, and incredibly interesting. It took everyday fairy tales and twisted them into something else while also tying them all together in a bigger plot involving David. I was blown away by the writing because it felt like I was reading an old, dark, and haunting fairy tale mixed with a children's book type of narration. It was a strange blend because, while the main character was a child and the things he encountered resembled fairy tales, it was clearly not a children's book. There were darker, more mature themes, along with somewhat scary encounters. I cannot gush enough about
The Book of Lost Things
. It was so brilliant. Perhaps the best way to explain the blend of darkness is to compare it to the movie Pan's Labyrinth. Despite it being a children's story, the elements are haunting, scary, and the lessons learned are learned at a price. I've never read a book so completely inappropriate for children yet so much like a children's story with the same sort of lessons, morals, and adventures. I loved the balance and the way David had to learn valuable life lessons.
The Book of Lost Things
was clever and completely engrossing. In my copy, the author also took the liberty to explain the various traditional fairy tales he used, all compiled at the end of the book. The original tale is printed with the author's interpretation and how he used it in
The Book of Lost Things.
It was helpful and interesting, especially if there were fairy tales used that you aren't familiar with.
"Once upon a time –for that is how all stories should begin –there was a boy who lost his mother." 
"And yet this world remained a curious mix of the strange and the familiar, as though by coming here he had somehow altered its nature, infecting it was aspects of his own life." 
"'All of these things are real. You have endured pain here. If you can endure pain, then you can die.'" 
"'You must learn to control your impulses,' he said. 'A sword wants to be used. It wants to draw blood. That is why it was forged, and it has to other purpose in the world. If you do not control it, then it will control you.'" 
"Stories wanted to be read, David's mother would whisper. They needed it. It was the reason they forced themselves from their world into ours. They wanted us to give them life."
I highly recommend
The Book of Lost Things
. It's fantastic. Instead of being a fairy tale retelling, it's much more.