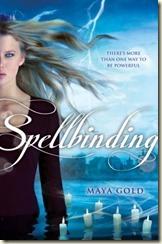 Spellbinding

  by Maya Gold   Summary: There's more than one way to be powerful . . .
It is during a routine school project that Abby Silva--sixteen and nearly friendless--makes a startling discovery: She is descended from women who were accused of witchcraft back in 1600s Salem. And when Abby visits nearby Salem, strange, inexplicable events start to unfold. Objects move when she wills them to. Candles burst into sudden flame. And an ancient spellbook somehow winds up in her possession.
Trying to harness her newfound power, Abby concocts a love potion to win over her longtime crush--and exact revenge upon his cruel, bullying girlfriend. But old magic is not to be trifled with. Soon, Abby is thrust headlong into a world of hexes, secrets, and danger. And then there's Rem Anders, the beautiful, mysterious Salem boy who seems to know more about Abby than he first lets on.
A reckoning is coming, and Abby will have to make sense of her history--and her heart--before she can face the powerful truth.

Source: I received a copy of this book from NetGalley in exchange for an honest review.
Review:




Spellbinding was a fun and light read with witches, magic, and a little bit of romance. I loved the blend of Salem history mixed with present day normality.
Abby was sort of an outsider in school and felt like she was pretty much invisible to her fellow classmates. She crushed on the most popular guy in school, but of course, he spent his time with the most popular girl, a snakelike mean girl named Megan. (Seriously, why do all the Megan's have to be terrible?! I promise I'm a nice person.) She started working on genealogy project and found out her mother's line led back to Salem with some strange discrepancies. One thing led to another as she became drawn the the town and ended up working in a weird eclectic shop, crushing on a gorgeous guy at the coffee shop nearby, and becoming anything but normal.
Abby started to notice strange coincidences and wondered if she was the cause. Then, she swore the cute guy from the coffee shop was communicating with her without speaking. Things were getting stranger for Abby by the day, but she started to gain a new confidence and realize she did indeed have some sort of magical link. I loved Rem's character because he was a little mysterious, but I could tell he was an all around nice person who knew a little more about what Abby was dealing with than he let on. It drove Abby nuts that he kept giving mixed signals, but I thought it made him more of a challenge.
I liked seeing Abby grow a little as a character and have some more confidence, but then she kind of went overboard. Putting an attraction spell on Travis and getting into catfights with Megan over it was a little over the top for me. I understood Abby's frustration at Rem's mixed signals, but instead of dealing with her feelings about him, she seemed to distract herself with this weird lapdog relationship with Travis, even though she knew he was under a spell. I felt like all of the spells she was doing were run of the mill power gone crazy spells that any teenager does in any witchy situation and I was disappointed by it. I wanted Abby to rise above it.
The conflict involving the elemental witches and Abby's place in the community of witches was definitely interesting and I loved the addition of Rem's involvement. I enjoyed seeing the witch secrets slowly unravel throughout the book as Abby got closer to the truth.
I just wanted more from Abby and more focus on figuring things out instead of being petty. I mean, some scenes were a little too dramatic and Carrie-like for me to really buy into. I guess I assume these fictional characters have read books and seen movies of that sort to not get roped in. Obviously, putting spells on people out of anger is not a good idea and nothing good can come from it! It's like reading a horror novel where the people really do run upstairs as an escape from the killer downstairs. It's just so cliché and it was driving me nuts a little bit.
I enjoyed Spellbinding and thought it was a fun and interesting read. I definitely couldn't put it down and sped right through it. I loved Rem's character and the relationship development on that end. Spellbinding was full of magic, witchcraft, secrets, and choices and I'd recommend it, especially if you are in the mood for a light, quick, but thoroughly enjoyable witchy read.