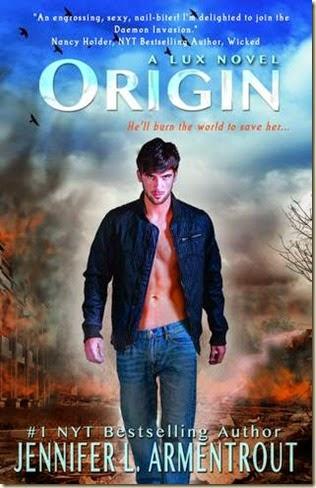 Origin (Lux #4)


 by Jennifer L. Armentrout
 Summary: Daemon will do anything to get Katy back.
After the successful but disastrous raid on Mount Weather, he's facing the impossible. Katy is gone. Taken. Everything becomes about finding her. Taking out anyone who stands in his way? Done. Burning down the whole world to save her? Gladly. Exposing his alien race to the world? With pleasure.
All Katy can do is survive.
Surrounded by enemies, the only way she can come out of this is to adapt. After all, there are sides of Daedalus that don't seem entirely crazy, but the group's goals are frightening and the truths they speak even more disturbing. Who are the real bad guys? Daedalus? Mankind? Or the Luxen?
Together, they can face anything.
But the most dangerous foe has been there all along, and when the truths are exposed and the lies come crumbling down, which side will Daemon and Katy be standing on?
And will they even be together?
Source: I purchased a Kindle copy.
Add to Goodreads
Review:
Origin was crazy. Katy and Daemon were separated after the events in Opal and he was trying everything in his power to get her back. Katy was inside Daedalus headquarters being exposed to all sorts of insane things and being told that the Luxen weren't to be trusted. Daedalus was doing a public service. It sounded crazy, but there was some bit of truth to it all. The events in Origin were escalated and there was much more hanging in the balance. Katy was in the wrong hands, but there was so much about the DOD, Daedalus, and the alien races that was unknown and finally revealed in this installment.
Now that I'm finished, I'm feeling a little conflicted. Of course Daedalus and the DOD are bad. They made that perfectly clear by the way they went about getting what they wanted and testing Katy. I thought it was absurd that Luxen and healed human hybrids were dangerous any more than a normal Luxen was, but I kind of see why the government and the specialized branch of the government were so threatened. What have they done? And what will happen next?!
I liked how Origin took the characters out of their faking high school norm routing because it allowed for the characters to seem a little more believable in some ways and the story kind of pulled away from it's high school beginnings. In earlier books, the world was in peril and they had time to go to school and buy prom dresses and that will always be the most difficult part of YA paranormal fiction for me. In Origin, Katy wasn't doing anything normal as she was locked up in a room and forced to attack other hybrids. Daemon wasn't off playing normal, either. He was hunting Katy down.
I loved some of the revelations in Origin. The origins themselves were incredibly interesting. I found out so much more out about the Luxen, the human hybrids, the process of creating hybrids, and what Daedalus was working on that was so important they would risk the lives of innocent people to get it.
I cannot wait for the next and final book in the series. It will be epic and I'm curious to see what happens next with the characters.