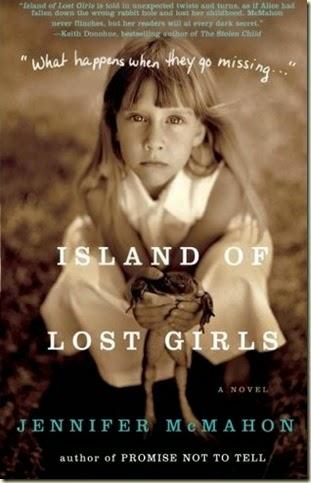 Island of Lost Girls


by Jennifer McMahon
 Summary: While parked at a gas station, Rhonda sees something so incongruously surreal that at first she hardly recognizes it as a crime in progress. She watches, unmoving, as someone dressed in a rabbit costume kidnaps a young girl. Devastated over having done nothing, Rhonda joins the investigation. But the closer she comes to identifying the abductor, the nearer she gets to the troubling truth about another missing child: her best friend, Lizzy, who vanished years before.
From the author of the acclaimed Promise Not to Tell comes a chilling and mesmerizing tale of shattered innocence, guilt, and ultimate redemption.
Add to Goodreads
Source: I purchased a paperback at a used bookstore

Review:
Island of Lost Girls was a strange and twisted story about a missing girl. The main character, Rhonda, witnessed a person in a rabbit costume kidnap a young girl. She was too stunned to help, but it made her jump in and help find the girl. The circumstances made her think about her childhood, the people around her, and her version of events.
I loved not knowing what was happening. In the present, I was trying to figure out who on earth would kidnap the girl and do it in a rabbit suit. Was it someone Rhonda knew? Someone in town? A random coincidence? As Rhonda reminisced, I wondered what was going on with the people in her life. What happened to Daniel and Lizzy? What was going on that weird summer?
There were connections that were slowly uncovered and Rhonda had an unhealthy attachment to Peter. In the past, it was obvious they were becoming close to a couple, but in the present, he was with a person that Rhonda had no objection to him being with. It wasn't until pieces of the puzzle came together that the full picture was obvious.
 Jennifer McMahon writes such compelling fiction. It's a mash up of small towns, secrets, being a kid and not necessarily understanding the world around you, and something dangerous, whether that be murder, missing people, supernatural elements, or something else.
 I loved Island of Lost Girls. It's hard to go into details about the story because there were so many twists, secrets, and different pieces that were uncovered, I wouldn't want to spoil a single thing. I definitely recommend the book. It was one of the more confusing and hard to predict books that I've read from the author, which was nice and I liked the way it all came together at the end.